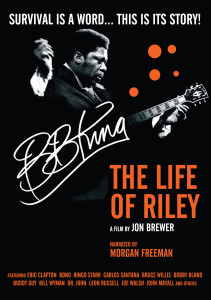 "The invaluable and definitive autobiography on film of the last great bluesman, BB King. This movie is BB's valedictory testimony, and a monument to the essence of the blues and whence he and they came – in Mississippi delta cotton country – and their impact on us all." -The Observer
Broadcast Nationally on PBS American Masters (as an edited version) Feb. 2016.
Directed by Jon Brewer / Narrated by Morgan Freeman
This visually stunning film has an astounding list of contributors (including King himself). Among them are Bono, Eric Clapton, Bruce Willis, Bonnie Raitt, Dr. John, Keith Richards and Bill Wyman, as well as appearances by Mick Jagger and President Obama.
This is a no holds barred, powerful feature that explores how a black cotton picker from Mississippi turned his life around and battled against all the odds and unrelenting racism to overcome even the toughest critics. Filmed on location all over America as well as in the United Kingdom, Life of Riley brings to life the heat and gin-soaked plantations where it all began.
With the full cooperation of the B.B. King Museum, owners of vaults and archives so precious and immense, that several trips had to be made to America to revisit the collection and partake of its many gems. Prejudice and segregation has stained the lives of countless African Americans, and B.B. "Riley" King made sure that through his music, that he never allowed it to mar his spirit. This is the essence of the story that makes an astoundingly beautiful film. Extremely informative and visually captivating.
"The most enlightening account imaginable of the life and times of our greatest living bluesman" – Classic Rock Blues Review
"One of the flagstone stories of Black America" – Cinethesia
"Excellent use of archive footage and interviews…but the real stars are King, his music and his gregarious humility" – Evening Sun
"A meticulous record of a long and industrious life in the blues" – Mojo
"Recommended" – Video Librarian
TRACK LISTING
    How Blue Can You Get (Live)
    Chains + Things
    The Thrill is Gone
    Need Your Love
    Sweet 16
    When Love Comes to Town
    See That My Grave is Kept Clean (live)
    Blues Boy Tune
    Messy But Good
    On My Word of Honour
    Tired of Your Jive
    And lots more!
Bonus Materials
Live at the Albert Hall 'See that my grave is kept clean'
Live at the Albert Hall 'Thrill has gone' including special guests Ronnie Wood, Susan Tedeshci, Derek Trucks, Mick Hucknell & Slash
Bonus Interviews from Buddy Guy, Mick Hucknell & Ronnie Wood, Bonnie Raitt, Derek Trucks, Bobby Bland, Walter Trout, Susan Tedeschi, Carlos Santana, Joe Bonamassa, Dr John, John Mayall, Slash, Leon Russell.
123 minutes on one disc / 2012
HOW TO ORDER:
Public Performance and Digital Site Licenses are available exclusively through Soundview Media Partners. To inquire or to place an order, write to info@soundviewmediapartners.com or simply choose from the license options below. 
For group screening prices, please inquire info@soundviewmediapartners.com
In-home/personal use copies are available on Amazon: http://amzn.to/1S5FWcC
WATCH THE TRAILER