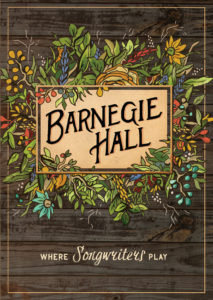 Not since "Inside the Actor's Studio" has there been a series that takes you inside the creative process the way "Barnegie Hall" does.
"IT ALL BEGINS WITH A SONG"… In this case… 47 #1 Hits, 6 Grammy awards, 4 Songs of the Year, and 3 Hall-of -Famers in a 13 x 30 series that takes you inside some of the most creative songwriting minds in the world. They call the series "Barnegie Hall". 
Celebrated songwriter and virtuoso picker Verlon Thompson sits down with some of the most inspiring and talented writer/performers in the world for honest conversation, laughter and musical insights in an extraordinary series of 13 musical journeys.
Each episode is intimately filmed at Barnegie Hall, a very special location with its heart rooted in Country and Americana music. The 13 program series explores how some of the greatest hits of all time were crafted and includes personal musical performances by the guests, as well as intimate duets performed along with host Verlon Thompson.
Hosted by Verlon Thompson
No stranger to the craft being discussed, Thompson's own songs have been covered by such artists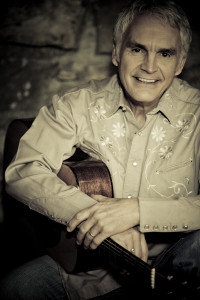 as Randy Travis, Anne Murray, Kenny Rogers, Barbara Mandrell, The Nitty Gritty Dirt Band, Jimmy Buffet ,Alan Jackson, Dierks Bentley, Miranda Lambert and of course Guy Clark with whom Thompson was nominated for a Grammy.
Below is a breakdown of the episodes:
Mark Sanders (1×22:13/1×22:11)
Tony Arata (23:31)
Billy Dean  (30:56)
Mary Gauthier (approx. 30:00)
Rivers Rutherford (approx. 30:00)
Suzy Bogguss (approx. 30:00)
Jessi Alexander  (approx. 30:00)
Wayland Holyfield (approx. 30:00)
Jon Randall (approx. 30:00)
Shawn Camp (approx. 30:00)
Richard Leigh  (approx. 30:00)
Special BONUS "Best Of"
The artists these songwriters have written for reads like a who's who of the charts. Below is the short list in no particular order: 
Lee Ann Womack
Garth Brooks
Trace Adkins
Ricochet
Faith Hill
George Strait
Josh Turner
Brooks and Dunn
Guy Clark
Crystal Gayle
Reba
Blake Shelton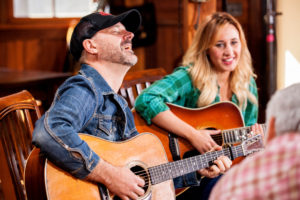 13 episodes / 6 hours and 31 minutes on 2 discs / 2017
HOW TO ORDER:
Public Performance and Digital Site Licenses are available through Soundview Media Partners. To inquire or to place an order, write to info@soundviewmediapartners.com or simply choose from the options below:
For group screening prices, please inquire.
In-home/personal use copies of the DVD are available on Amazon: http://amzn.to/2vxWMsy. If you prefer to stream or download episodes, they are available on Amazon Instant Video (and are Prime for members) at http://amzn.to/2CpOJQZ
WATCH THE TRAILER