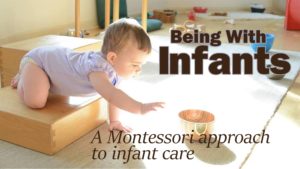 This one-of-a-kind multi-chaptered video training series gives early childhood providers, educators and parents direct access to a comprehensive care approach from renowned author and infant/child specialist and Montessori teacher trainer, Beverly Kovach. Kovach is certified in MACTE (0-3), and Pikler® and Resources for Infant Educators (RIE®).
Pulling from the "best-of-the-best" in her work in Early Childhood Education & Development, Kovach has developed a unique model that includes and advances the theories of Dr. Maria Montessori, Dr. Emmi Pikler, Magda Gerber & others allowing providers and trainers support in putting theory into daily practice.
The series in broken into easy-to-digest chapters permitting learning step by step.
Philosophy
Caregiver Curriculum
Bottle Feeding
Diapering Part 1
Diapering Part 2
Hands
Caregiving Routines
Quality Time
Motor Movement
Authenticity
Basic Principles
Weaning Feeding
Solid Feeding
Crying
Sleep
Lap Solids Feeding
Lap Bottle Feeding
Play
Observation
Environment
"3 stars! "Practitioner and trainer Beverly Kovach, R.N., M.N., delivers a lecture on the best practices for providing infant and toddler care in a center. Kovach is a child specialist who studied under Magda Gerber. Drawing on her mentor's work, her own knowledge of infant pedagogy, and 20 years of experience, Kovach presents a caregiver curriculum that allows viewers to choose among topics that include feeding, diapering, motor movement, sleeping, crying, play, language, center environment, and more. Kovach's philosophy revolves around caregivers focusing all of their attention on the child during caregiving moments, which she acknowledges can be difficult in a busy center. Kovach stresses the importance of keeping the sleeping and diapering stations away from high traffic areas in order to better facilitate caregiver and infant interaction. In a teaching demo, she instructs a trainee on how to pick up a baby so that the baby feels secure and trusts the caregiver. Kovach notes that caregivers do not need to teach play because infants will naturally do so, given a proper environment. Safe and appealing center environments are shown here as well as footage of babies interacting with objects of various size, shape, and texture. A helpful tool for caregivers working with infants, this is recommended." – Video Librarian
2016 / 215 minutes (3 discs) / A film series by Jared Noe / Produced by Blu de Golyer and Jared Noe
HOW TO ORDER:
Public Performance and Digital Site Licenses are available through Soundview Media Partners. To inquire or to place an order, write to info@soundviewmediapartners.com or simply choose from the options below:
For group screening prices, please inquire.
In-home/personal use copies are available on Amazon: https://amzn.to/2MOc3wC
Prefer to stream or download? Individual episodes or the entire series can be digitally experienced on Amazon as well: https://amzn.to/2zTKkr5
WATCH THE TRAILER
Being With Infants- A Curriculum That Works For Parents and Caregivers from MMP School on Vimeo.