"Betty Davis was a raw funk pioneer. Her decades of silence are over." – The New York Times
Funk Queen Betty Davis (July 26, 1945 – February 9, 2022) changed the landscape for female artists in America. As her former husband Miles Davis said, she was "Madonna before Madonna… Prince before Prince".
An aspiring songwriter from a small steel town, Betty Mabry grew up in Durham, North Carolina, just outside Pittsboro and arrived on the NY 70's scene to break boundaries for women with her daring personality, iconic fashion and outrageous funk music. She befriended Jimi Hendrix and Sly Stone, wrote songs for the Chambers Brothers and the Commodores, and married Miles – startlingly turning him from jazz to funk on the album she named "Bitches Brew". Her marriage to Miles Davis ended when he accused her of having an affair with Hendrix. She then, despite being banned and boycotted, went on to become the first black woman to perform, write and manage herself.
Betty was a feminist pioneer, inspiring and intimidating in a manner like no woman before. Then suddenly – she vanished.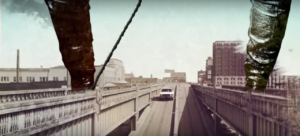 Creatively blending documentary and animation, this film traces the path of Betty's life, how she grew from humble upbringings to become a fully self-realized black female pioneer the world failed to understand or appreciate.
After years of trying, the elusive Betty, forever the free-spirited Black Power Goddess, finally allowed the filmmakers to creatively tell her story based on their conversations.
Featuring Betty Davis as Herself as well as Mike Canton host of The Soul Show, WYEP-FM, Music critic Oliver Wang, Greg Errico, drummer for Sly & the Family Stone and a funk lot more.
The film was nominated at IndieLisboa International Independent Film Festival for the Indiemusic Schweppes Award, and for Best Sounds Feature at the Indie Memphis Film Festival. It has additionally been an Official Selection at a variety of festivals around the world including the Istanbul Film Festival, IDFA, Melbourne International Jazz Fest, Pop Montréal Festival, Redbull Music Festival and the Black Bottom Film Festival to name a few.
"Honoring the beauty of the artist's enigmatic aura and elusiveness…offering us finally an alternative way to contemplate black women's musicianship without trafficking in tragedy or unveiling privacy" – Los Angeles Review of Books
"Gritty funk, progressive sexual politics and eye-popping imagery of a criminally under-valued talent from the '70s." – Billboard
"Betty was a free spirit…talented as a motherfucker." – Miles Davis, from his autobiography.
"Astonishing and tantalising" – The Wire
2017 / 53 minutes / color / English / a film by Phil Cox
HOW TO ORDER:
Public Performance and Digital Site Licenses are available through Soundview Media Partners. To inquire or to place an order, write to info@soundviewmediapartners.com or simply choose from the options below:
For group screening prices, please inquire.
In-home/personal use copies are available on Amazon: https://amzn.to/2Q8NeB9
WATCH THE TRAILER