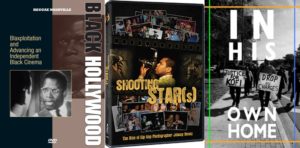 Save 20% on The Black History Collection 2 when purchased as a collection vs. purchased individually. This collection of three films consists of
Before Michael Brown and Ferguson, Missouri, the headline-making killing of Trayvon Martin and the death of Eric Garner at the hands of New York City police officers, there was the shocking 2010 shooting of Kofi Adu Brempong, a disabled Ghanaian graduate student attacked by University of Florida campus police responding to a 911 call.
Underlining an ongoing pattern of racism and police brutality, as well as the frightening "militarization" of campuses nationwide, IN HIS OWN HOME speaks to widespread and pervasive issues in our country that will, for the time being, remain among our most controversial and disconcerting
Filmmakers Axel Ebermann and Daniel Frei document the incredible journey of this man, who is now on the verge of becoming a celebrity himself. The film shows the glamorous life of Johnny Nunez as he mingles with prominent figures such as Russell Simmons, Al Sharpton, Kanye West, Kimora Lee and Fabulous. The film also portrays the inspirational journey of a man who defies poverty and racism and uses his wit, tenacity and faith to pursue his American Dream.
BLACK HOLLYWOOD: Blaxploitation And Advancing An Independent Black Cinema
Remember the early 80s – hip hop had just been born, break dancing filled clubs and streets and Eddie Murphy and late great Richard Pryor were the only two black stars making it. In an action-packed showcase of clips and interviews, Diahnne Abbott, Rosalind Cash and Alfre Woodard talk about negative stereotyping.
HOW TO ORDER:
Public Performance and Digital Site Licenses are available through Soundview Media Partners. To inquire or to place an order, write to info@soundviewmediapartners.com or simply choose from the options below:
For group screening prices, please inquire.