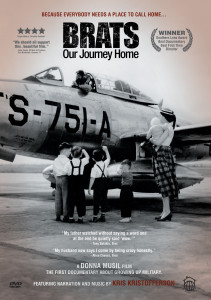 Because Everybody Needs a Place to Call Home…
★ Broadcast on Armed Forces Network TV
★ Featured on CNN's This Week at War
★ Featured on NPR's All Things Considered
Legendary singer/songwriter Kris Kristofferson, the son of an Air Force general, leads us on a heartfelt journey into the strange but interesting life of an American military "brat." Imagine… 7% of the American population grew up as 'brats'!
Based on poignant and provocative interviews with adult brats of all ethnicities, including General H. Norman Schwarzkopf and author Mary Edwards Wertsch, BRATS is the first non-fiction film to explore this peculiar subculture from the child's point-of-view.
What it's like to: Move twelve times before you graduate from high school… Feel like an outsider in your own country… Go to an integrated school 20 years before the civil rights movement… Grow up in a paradox that is idealistic and authoritarian, privileged and perilous, supportive and stifling – all at the same time…
The film additionally explores how being a brat impacts adult life… when a brat leaves the armed forces environment and struggles to "fit in."
Featuring songs by Kris Kristofferson and archival footage from post-war Germany and Japan.
"BRATS is a gripping documentary with universal dimensions that should be seen by everyone concerned about children" – Marlene Koenig & Betty Nicholas, Retired DoD Teachers).
"A powerful glimpse of life 'inside the fortress.' It is a must see for Brats and will be surprisingly popular with non-Brats…" – School Library Journal
Filmed over 7 years, BRATS: Our Journey Home is a unique and powerful award-winning documentary about the legacies of growing up in an American military family.
A timeless and powerful tool for debate and reflection on the positive and painful impact of war, international mobility, and the pressures of patriotism on a child's heart, soul, and mind.
"No other documentary better depicts the social and psychological impact on children and adolescents at the intersection of two powerful social institutions – the military and the family." – Dr. Morten Ender, Sociology Prof. US Military Academy, West Point
"All I can say is 'wow'… I hope every military member has the chance to see this film and realizes how special their families are." – MSgt. Michael Bovo, Camp Fallujah, Iraq
Recommended for the following educational subject areas:
Children, Youth & Families; Sociology; Psychology; Social Work; Military Family Studies; US History; Mental Health; Ethnic Studies; Education; PTSD
Official Selection in dozens of festivals including Sedona, Santa Fe, Newport Beach, Rhode Island, San Diego and many more.
Winner: Founders Choice GI Film Festival
Winner: Best Documentary Beaufort Film Festival
Winner: Southern Lens Award Best Documentary
"…rapidly becoming a cult classic among former dependents of military members" – Marine Corp News
90 minutes on 1 disc / Written and directed by Army brat Donna Musil.
HOW TO ORDER:
Public Performance Licenses are available through Soundview Media Partners. To inquire or to place an order, write to info@soundviewmediapartners.com or simply choose from the options below:
For group screening prices, please inquire.
In-home/personal use copies are available on Amazon: http://amzn.to/29E6mQ9
WATCH THE TRAILER