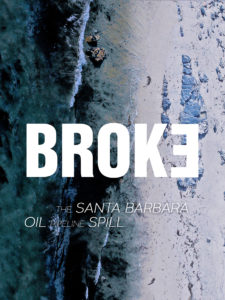 New documentary about the Santa Barbara Oil Pipeline Spill of 2015.
On May 19, 2015, Plains All-American Pipeline's onshore pipeline ruptured spilling 140,000 US gallons onto the Gaviota coastline. Oil flowed through a culvert and into the Pacific fouling beaches from Santa Barbara to Los Angeles. Gail Osherenko's "Broke" follows the story of the spill, the clean up, and the active community responses.
Winner: Humanitarian Award / IndieFest
Winner: Best Documentary Feature Film / San Luis Obispo International Film Festival
"Broke" highlights the reaction of citizens who came together in protest marches and healing ceremonies, rescued birds and marine mammals, cleaned the oil off  beaches, and demanded more stringent spill prevention and response. The community's actions stand in stark contrast to the insensitivity of the oil industry and particularly Plains All-American Pipeline, Ltd.  Plains still faces both criminal and civil lawsuits.
Filmmaker statement:
We started filming at Refugio State Park the afternoon that Plains All-American Pipeline, line 901, burst on May 19, 2015 spilling 140,000 gallons of crude oil onto the Gaviota coast and into the ocean. Crude oil tumbled in the surf, sent toxic fumes in the air, and killed sea life as the Coast Guard struggled to respond.
It's a one-hour environmental story with a peek back at the Santa Barbara oil spill of 1969 that helped launch the environmental movement, EPA, and clean air and water laws, and a look forward to a fossil free future.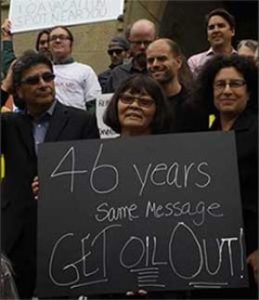 Featured in the film in alphabetical order are:
Yvonne Addassi, Deputy Administrator, CA Department of Fish & Wildlife
Heather Armentrout, Animal Care Specialist, Oiled Wildlife Care Network
Owen Bailey, Executive Director, Environmental Defense Center, Santa Barbara
Margaret Connell, former Mayor of Goleta, CA
Chris Corbo, Deputy Incident Commander, CA Dept. Fish & Wildlife
Salud Carbajal, Congressman from California Central Coast (former County Supervisor)
Jaime Diamond, Stardust Sportfishing
Lauren DuBois, Liaison, SeaWorld San Diego
Becky Elias, Volunteer Coordinator, Oiled Wildlife Care Network
Steve Ferry, former Co-President, Santa Barbara Audubon
Christina Fiorello, Veterinarian, Oiled Wildlife Care Network, University of California, Davis
Carla Frisk, Board Member, Get Oil Out
Walter Fuller, Steward of Ormond Beach, Oxnard, CA
Hanna-Beth Jackson, California State Senator, Santa Barbara and Ventura
Cynthia Hartley, Western Snowy Plover Beach Monitor, Ormond Beach
Wes Herman, Retired Fire Captain and Petroleum Engineer, County of Santa Barbara
Patrick Hodgins, Senior Safety Director, Plains All-American Pipeline Co.
Eric Kjellstrom, California Fish & Wildlife
John Kovach, Volunteer Snowy Plover Docent, Coal Oil Point Reserve
Linda Krop, Chief Counsel, Environmental Defense Center, Santa Barbara
Richard Kuprewicz, President, Accufacts, Inc., pipeline safety expert
Eric Laughlin, Public Information Officer, California Department of Fish & Wildlife
Kathryn Lehr, Planner, Santa Barbara County Energy Division
Harry Liquornik, urchin fisherman
Craig and Cindy Makela, olive ranchers, Gaviota Coast
Phil McKenna, President, Gaviota Coast Conservancy
Riki Ott, PhD marine toxicology, Author "Not One Drop" and "Sound Truth & Corporate Myth$"
Chris Peltonen, Project Manager, VENOCO
Matt Renner, Executive Director, World Business Academy
Helene Schneider, Mayor of Santa Barbara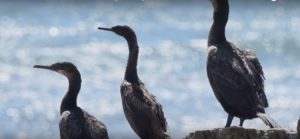 2017 / 55 minutes / Color / A film by Gail Osherenko
HOW TO ORDER:
Public Performance and Digital Site Licenses are available through Soundview Media Partners. To inquire or to place an order, write to info@soundviewmediapartners.com or simply choose from the options below:
For group screening prices, please inquire.
In-home/personal use copies are available on Amazon: https://amzn.to/2UlnS2d
Watch the trailer