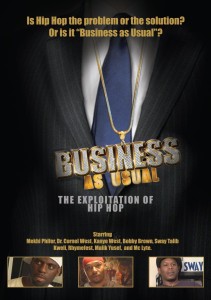 "Business as Usual" is a feature length documentary that asks the questions: Has Hip-Hop been exploited for economic gain, to the detriment of the masses of urban youth who embrace it? Who's really making the money, controlling the systems and influencing the youth?
In the film, you will discover the roots of Hip Hop culture as it traces its origins in urban America, and its influence which has been felt worldwide. From Hip Hop's power, influence, and artistry to the culture's unparalleled effect on movies, television, fashion, advertising, sports and business; the journey uncovers the meaning behind the lyrics, racy videos, materialism and sexism.
"Business as Usual", is narrated by Mekhi Phifer (ER, Soul Food) and features some of the biggest names in Hip Hop like Kanye West, KRS-One, DMC, Dead Prez, Lil Scrappy, Talib Kweli, MC Lyte, Dr. Cornel West, MTV's Sway and spoken word artist Malik Yusef to name a few. In addition to other artists, "Business as Usual" will also include interviews from academia, businesses, politicians, record labels, and media outlets.
Is Hip Hop the problem or the solution? Or is it "Business as Usual"?
64 minutes on 1 disc
WATCH THE TRAILER