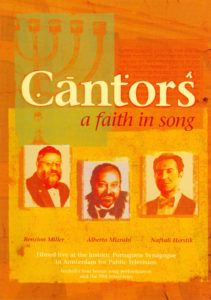 The classic concert from 2003… Recorded live in Amsterdam's historic, 17th Century (1675), Portuguese Synagogue, the performance features three of the world's greatest cantors in a program of inspiring Jewish secular and religious song.
Amsterdam has long been at the crossroads of the two major streams of the Jewish faith: The Sephardic and Ashkenazi. It is therefore befitting that this magical performance took place there.
Performing with a 46 piece orchestra and 16 voice choir are Alberto Mizrahi of the renowned Anshe Emet Synagogue, Chicago, Naftali Herstik of Great Synagogue Jerusalem and Benzion Miller of Young Israel Beth-El of Borough Park, New York.
Full performances include:
Overture
Tumbalalaika
Ki Lo Noeh
Yedid Nefesh
Yerushalayim Shel Zahav
Sunrise, Sunset
Kol Nidre
Habet
Mayn Yiddishe Mama
Sephardic Medley
Yo M'enamori D'un Aire Los Bilbilicos Cuando El Rey Ninmrodv'lirushalayim Ircho
Hevenu Shalom Aleichem
Tzena Tzena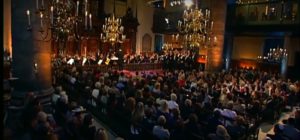 "With the force of the Netherlands Theater Orchestra behind them, they can nearly overpower the recording equipment. The songs range around the sphere of Jewish influence, from proper synagogue cantorials to Yiddish folk to Sephardic ballads, to an occasional show tune. The musical quality remains high, and perhaps most importantly shows off the many sides of the repertoire of a good cantor, from the religious to the secular (a bit) and the spectrum between these ends. " – All Music
"Guaranteed to provide a lift to your, or someone else's, spirit." – Jewish Source
75 minutes / Directed by Phil Byrd, Produced by Daniel Hart / 2003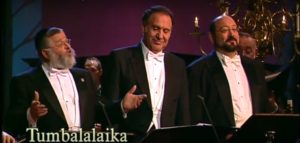 HOW TO ORDER:
Public Performance and Digital Site Licenses are available through Soundview Media Partners. To inquire or to place an order, write to info@soundviewmediapartners.com or simply choose from the options below:
For group screening prices, please inquire.
In-home/personal use copies are available on Amazon: http://amzn.to/2wmbYvb
Watch the trailer