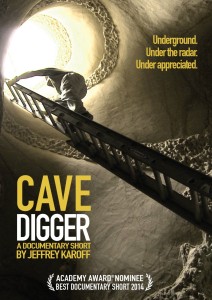 Nominated for an ACADEMY AWARD® for Best Short Documentary.
CAVEDIGGER
A film by Jeffrey Karoff
Ra Paulette digs cathedral-like, "eighth wonder of the world" art caves into the sandstone cliffs of Northern New Mexico. Each creation takes him years to complete, and each is a masterwork. But patrons who have commissioned caves have cut off nearly all of his projects due to artistic differences. Fed up, Ra has chosen to forego all commissions to create his own Magnum Opus, a massive 10-year project.
"The word cave doesn't come close to describing (artist Paullette's) elaborate endeavors. This 2014 Academy Award nominee (Best Documentary Short Subject) profile of a soft-spoken lone artist and his creations is most inspiring". – Booklist (video review)
3 STARS "Filmmaker Jeffrey Karoff's Oscar-nominated short documentary serves up a portrait of Ra Paulette, a septuagenarian Taos man who uses hand tools to dig into northern New Mexico's sandstone mountains, as he sculpts elaborate, intricate caves…Karoff deftly captures Paulette's eccentricity and artistic ambition in gentle, understated fashion in this engaging profile. Recommended." – Video Librarian
"Ra Paulette is an embodiment of the urge to keep living, no matter what, captured on film. "CaveDigger," is my personal favorite [of the nominated short docs]." – Boston Globe
"[This film] will surely win your heart, if not the Oscar." – Washington Post
"The line between creative ambition and risky obsession is sharply drawn—or rather, carved out of New Mexico sandstone—in the life and work of wholly motivated artist Ra Paulette…" – Village Voice
39 minutes on 1 disc
HOW TO ORDER:
Public Performance and Digital Site Licenses are available through Soundview Media Partners. To inquire or to place an order, write to info@soundviewmediapartners.com or select from the License Options listed below:
For group screening prices, please inquire.
Watch the trailer