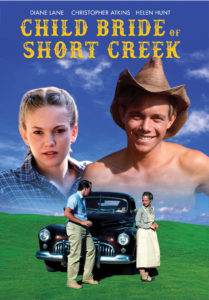 Time stamp 1953 Arizona.
Based on the true story, The Child Bride Of Short Creek was shot just 40 miles from the town where the story took place. The producers required security because there were rumors of attacks from the Mormons opposing to the filming.
Short Creek is a polygamist community in Arizona where 400 Mormon loyalists, 263 of those children, lived their own, unique, secular lifestyle. When a Korean War veteran returned home, his experiences outside make living the Latter Day Saints (LDS) lifestyle unbearable. He rebels against his father who had plans to add another wife to his household- a 15 year old girl who the vet loves dearly.
With very early appearances by Diane Lane and Helen Hunt, much of the film was shot using the original sets from 'Butch Cassidy and the Sundance Kid'.
Child Bride of Short Creek is a 1981 American drama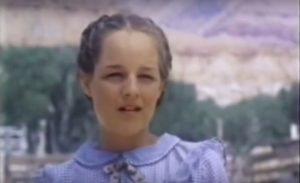 written by Joyce Eliason (an American writer and producer best known for writing TV miniseries including Titanic and The Last Don).
In 1953 Arizona, teenagers Jessica Rae "Jessie" Jacobs (Diane Lane) and her friend Naomi (Helen Hunt) have grown up in Short Creek as members of an isolated patriarchal polygamist religious community led by President Frank King (Conrad Bain). The members of the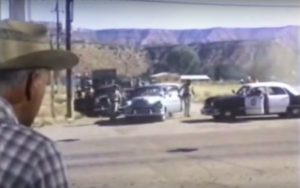 small group dress in old-fashioned clothing and spend many hours a day doing domestic and agricultural chores with traditional equipment and few modern conveniences. The women are trained to serve and be subservient to their husbands. They rarely travel away from the community and are usually kept away from outside influences such as magazines and radio. Jessie's father Jay Jacobs has three wives, including Jessie's mother Mary, who only sees her husband on certain days when he is not with his other wives, and has mixed feelings about the arrangement. State authorities are investigating the group due to its unlawful customs of polygamy and child marriage of young girls to older men.
President King's 19-year-old son Isaac (Christopher Atkins) returns home safely from serving in the Korean War, having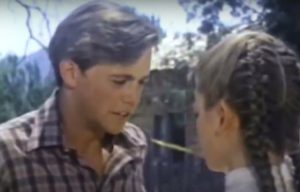 gained knowledge of the outside world through his travels. At his homecoming party, he and Jessie become attracted to each other, and over time fall in love. To his father's chagrin, Isaac begins to reject the group's lifestyle, including the polygamy which allows the older men of the group to regularly take new young women as wives. Isaac further questions the group's beliefs when his younger sisters accidentally drown because they were not allowed to learn how to swim. Meanwhile, President King has confided to the men of the group that God has told him to take Jessie as his wife, in addition to the three wives he already has. Despite Jessie's youth, her father Jay accepts this as God's will.
"Joyce Eliason's adaptation, directed by Robert Lewis, spins out this pathetic tale with a touching sympathy that yet retains an objectivity in a situation reflecting little credit on the ways of the sect or, at the same time, on the expediency and intolerance of those who would crush it." – New York Times
"A movie with substance, and while its older style might make it less accessible for some viewers, it was the perfect tone for this subject. I give this film four out of five stars." – Harold B. Lee Library Media Center
1981 / 96 minutes / Color / English / A film by Robert Lewis
HOW TO ORDER:
Public Performance and Digital Site Licenses are available through Soundview Media Partners. To inquire or to place an order, write to info@soundviewmediapartners.com or simply choose from the options below:
For group screening prices, please inquire.
In-home/personal use copies are available on Amazon: https://amzn.to/2QxQsf9
WATCH A 10 MINUTE SEGMENT