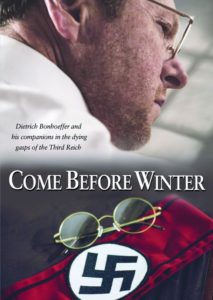 Come Before Winter tells the true story of two longtime foes of Adolf Hitler; Sefton Delmer and Pastor Dietrich Bonhoeffer. During the dying days of the Third Reich these two men, in very different ways, helped bring about the fall of Hitler's regime.
In Germany, Bonhoeffer spoke boldly against the evil of Nazism and called the church to turn away from its complacency. In England, Delmer, ran a secret operation, transmitting "black propaganda" into Germany in order to demoralize the Nazis.
The stories of these heroic men and their companions intertwine as they work to end the war.
Filmed in Berlin, Buchenwald, Flossenburg and various locations in England and the United States.
"Gary Blount, psychiatrist-turned-producer, has created a remarkable new film about the last days of Dietrich Bonhoeffer in a Nazi concentration camp, told through the eyes of a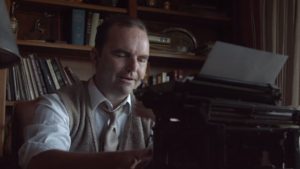 British broadcast team." – Spectrum
"[Come Before Winter] Lifts the curtain on cruel ironies of the final weeks of World War II" – International Bonhoeffer Society
Come Before Winter is a passion project of Minnesota psychiatrist Gary Blount.  Inspired by Bonhoeffer's exemplary faith and courage, Blount began researching Bonhoeffer during his college years and has been fascinated with the story ever since.
A note from Producer Gary Blount:
"Our story is about the final chapter in Dietrich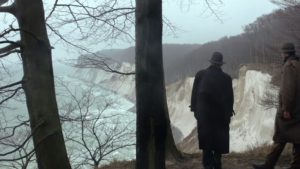 Bonhoeffer's life and what must have been the aching for deliverance by the Allies who were rapidly closing in.  We felt our time frame would extract something of the essence of his life and the perspective which he seemed to seek—'the view from below'.  This view now includes more uncertainty, wartime cruelty, and vengeance.  Bonhoeffer had traded collegiality with thought leaders like Barth and Niebuhr for companionship with an amazing collection of characters, not all 'pure in heart.' Sefton Delmer, our story teller, was proud of his frolicking and perverse propaganda.  Delmer's admiration of Bonhoeffer was overshadowed by his cynicism toward the 'opportunistic' German Resistance. His broadcast had not only been heard extensively but had, he believed, contributed to the war effort."
Director: Kevin Ekvall / Producer: Gary Blount
Key cast: Gus Lynch, Aubrey Wakeling,  Sefton Delmar, Rebecca Summer, Scotty Ray , Kelly Reed
75 minutes / 2016 / English language / 16×9 / Dolby Digital
HOW TO ORDER:
Public Performance and Digital Site Licenses are available through Soundview Media Partners. To inquire or to place an order, write to info@soundviewmediapartners.com or simply choose from the options below:
For group screening prices, please inquire.
Watch the trailer