THE 1930 FILM THAT SKYROCKETED HANS ALBERS TO FAME!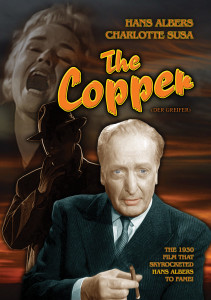 German actor Hans Albers shot himself to fame in 1930 with the movie "Der Greifer."
Albers plays Sgt. Harry Cross. Representing Scotland Yard he mingles with the cream of British society to bring a murderer to justice. Greeting everyone with off-handed cheerfulness, Albers is able to put the culprit "at ease" long enough to tighten the noose. He also wins the girl of his dreams, Dolly Mooreland, fetchingly played by Charlotte Susa.
Hans Albers was the single biggest male movie star in Germany between 1930 and 1945 and one of the most popular German actors of the twentieth century. Albers starred in a 1958 remake of the film once again playing the role of the retiring police superintendent.
Director: Richard Eichberg
Producers: Richard Eichberg
Actors: Hans Albers, Charlotte Susa, Margot Walter, Karl Ludwig Diehl, Eugen Burg, Harry Hardt
94 minutes on 1 disc / German with English subtitles / Mystery
HOW TO ORDER:
Public Performance and Digital Site Licenses are available exclusively through Soundview Media Partners. To inquire or to place an order, write to info@soundviewmediapartners.com.
For group screening prices, please inquire info@soundviewmediapartners.com
In-home/personal use copies are available on Amazon: http://amzn.to/1PeogsH