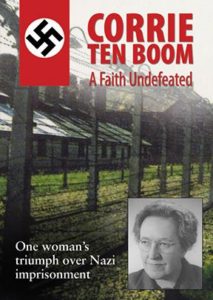 An untold WWII story of faith undefeated and one woman's triumph over Nazi imprisonment.
When Nazi forces invaded Holland in 1940 and began rounding up Jews, Corrie ten Boom, her sister Betsie, and their elderly father risked their lives to save as many as possible.
A hidden room was secretly built in their home where the oppressed Jews took refuge until a Gestapo raid put an end to their operation. For their "crimes," Corrie and Betsie were sent to the notorious concentration camp at Ravensbruck, where they suffered relentless cruelty.
Struggling to reconcile God's goodness with the terrible realities of the camp, the sisters clung desperately to their Christian faith. Betsie died in the camp, but Corrie was miraculously released due to a clerical error. She spent the rest of her days caring for other death camp and holocaust survivors and sharing her story with the world.
Corrie's 1971 best-selling book, The Hiding Place, provides her account of persevering faith and forgiveness in the face of terrible evil.
Worldwide Critical Acclaim
Winner, Best Documentary / Christian European Visual Media Association (CEVMA) Film Festival
Winner, Best Documentary under $50,000 / 2014 International Christian Visual Media
"This powerful and dynamic biographical portrait features moving audio clips of Corrie speaking to an audience about her world view and life experiences. Highly recommended." – Video Librarian
55 minutes on 1 disc / 2013 / English and Spanish w/English and Spanish sub-titles / 16×9
HOW TO ORDER:
Public Performance and Digital Site Licenses are available through Soundview Media Partners. To inquire or to place an order, write to info@soundviewmediapartners.com or simply choose from the options below:
For group screening prices, please inquire.
In-home/personal use copies are available on Amazon: http://amzn.to/2qzwPFO
Watch the trailer