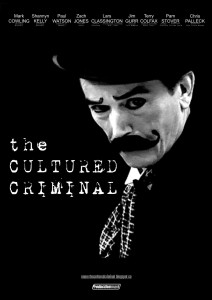 The Cultured Criminal, a film by Florin MARKSTEINER, revisits the 1890 Birchall-Benwell Affair, one of the most sensational murder cases in Canadian history.
The 19th-century Canadian murder case is a dramatized short period piece, which stars Mark Cowling as Reginald Birchall, a dissolute Englishman and Oxford-educated son of a cleric who moved to Ontario after selling off his inheritance to cover his gambling debts.
In 1890, Birchall conned two men into entering a partnership and then killed one, Frederick Benwell (Paul Watson). Birchall apparently intended to slay the other man as well, but failed to carry out the plan. Tried for murder, Birchall was found guilty despite the absence of a confession and was hanged in November 1890.
From a gruesome discovery in the Blenheim Swamp to the trial in Woodstock's Old Town Hall and beyond, the production is highly stylized and a dramatic recreation of the events that shook the quiet nation at the time.
It's short running time lends itself to the style of the film and you may find yourself totally immersed in the true story.
38 minutes/B&W
"Marksteiner tells this lurid story in a series of short scenes marked by highly histrionic acting (mimicking silent-film convention)" – Video Librarian
HOW TO ORDER:
Public Performance and Digital Site Licenses are available through Soundview Media Partners. To inquire or to place an order, write to info@soundviewmediapartners.com or select from the License Options listed below:
For group screening prices, please inquire.
In-home/personal use copies are available on Amazon: http://amzn.to/1qdBKw0
Watch the trailer