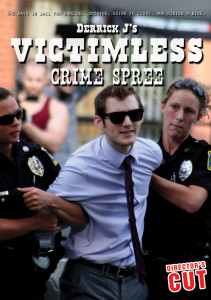 WINNER: TOP 25 LIBERTARIAN DOCUMENTARIES
"The people who are crazy enough to think they can change the world, are the ones who do." That statement describes Derrick J and most of the people in Derrick J's Victimless Crime Spree." – Free Press Publications
Derrick J, a liberty activist from Philadelphia, makes the move to the epicenter of libertarian civil disobedience: Keene, NH. "Derrick J's Victimless Crime Spree" documents his first year of activism which includes five outrageous arrests, all caught on video. His crimes for which he was sentenced to 540 days in jail? Recording video, dancing, smoking cannabis, going to court, and riding a bike. This moving and amusing story is narrated by Derrick J himself and includes plenty of exciting activist footage that makes it clear who the real criminals are – the people calling themselves "government".
The DVD features extensive bonus material including
Extended versions of activist footage, Omitted activist footage, Q&A session with the producers, Commentary with the producers, Solo commentary with Derrick J and more.
"a civil disobedience spree that demonstrates just how petty and dangerous is our ever-expanding body of law" – Miss Liberty's Film and Documentary World
Derek J became a regular cohost of the nationally syndicated talk radio show Free Talk Live as well as initiating and participating in several other freedom-enhancing endeavors such as one-on-one outreach, videography, Fr33 Agents Radio News, Flaming Freedom, Live Free Or Dance parties, Cop-Blocking, blogging, and Agorism.
90 minutes on 1 disc
HOW TO ORDER:
Public Performance and Digital Site Licenses are available through Soundview Media Partners. To inquire or to place an order, write to info@soundviewmediapartners.com or choose from the License Options below:
For group screening prices, please inquire.
In-home/personal use copies are available on Amazon: http://amzn.to/1TAZ0gV
Watch the trailer