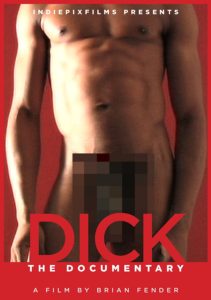 In August 2008, filmmaker Brian Fender posted an add on Craigslist to solicit volunteers for a documentary project. He invited "subjects" into his living room to strip down and reveal themselves physically and emotionally through personal stories about their relationship to their penises.
Fender interviewed a vast cross-section of anonymous, naked men about their prized appendage: from monks to transsexuals to ex-marines to designers, ranging in age from 21 to 80.
Hoping to demystify, illuminate, and even celebrate this "member" in our society, this DIY documentary is a candid exploration of what it means to have a dick.
"The film opens up a valuable, honest dialogue on one of society's still-taboo subjects. Snicker all you want, but the film ends up being an intriguing, honest examination of male sexuality that covers a wide range of topics without getting heavy-handed or overlong." – DVD Talk
"Dick: The Documentary may have an incredibly simple set-up but it's an almost literally blank canvas for both the participants and the viewers to look at the penis in a way they may never have before." – Big Gay Picture Show
48 minutes / 2014 / English
Note: This film contains full frontal nudity
HOW TO ORDER:
Public Performance and Digital Site Licenses are available through Soundview Media Partners. To inquire or to place an order, write to info@soundviewmediapartners.com or simply choose from the options below:
For group screening prices, please inquire.
In-home/personal use copies are available on Amazon: http://amzn.to/2pwCIas
Watch the trailer (may require sign in for age verification)