In 1970, Shakespearean actor and Royal Academy of Dramatic Arts faculty member Jeremy Stockwell starred in this way-ahead-of-its time camp-now-classic film.
Set in 1950s Tinseltown, Stockwell took on the then cutting edge role of a transvestite who fooled the world into believing he was a glamorous movie diva!
The short synopsis reads as follows: In 1950s Hollywood, a transvestite fooled the world into believing he was a she – and more to the point a glamorous movie diva. When he dies, the secret is out, and the film proceeds to tell the story of his relationships with friends and intimates, including a lesbian wardrobe designer, a gay matinee idol (whom he had an affair with), a protective lawyer, and a washed-up prize fighter who became her chauffeur!
"…hilariously camp on one level and poignant chronicle on the other. Beyond that it [the film] works as an outrageous satire on Hollywood, loaded with inside references and laced with dialog and scenes lifted from old movies" – Kevin Thomas, Los Angeles Times
"Comes off as far ahead of its time in its empathetic depiction of gays, lesbians, and transgender." – LeCinemaDreams
Stockwell is a freelance theatre director and performer. He has been a member of RADA faculty for over 20 years and teaches acting, improvisation, clown, and physicality in performance. He has directed and devised new work at RADA and for the National Theatre and BAC, among others.
1970 / 90 minutes / Satire / English / A film by Gene Nash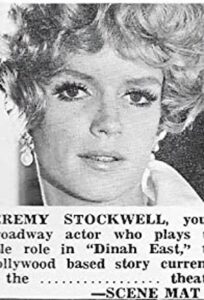 HOW TO ORDER:
Digital Site Licenses are available exclusively through Soundview Media Partners. To inquire or to place an order, write to info@soundviewmediapartners.com or simply choose from the options below:
For group screening prices, please inquire.
Watch a short clip