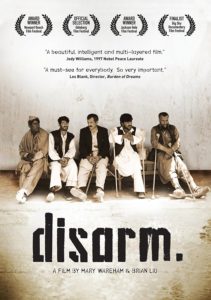 "RECOMMENDED" – Video Librarian
Evocative, visually stunning, and utterly unforgettable, DISARM spans a dozen countries to look at how, despite a global ban, millions of antipersonnel mines continue to claim victims daily in countries around the world.
Co-directed by Mary Wareham, a leader of the International Campaign to Ban Landmines (ICBL), and photojournalist Brian Liu, DISARM features striking footage smuggled out of the isolated nation of Burma, scenes from a war-ravaged community in Colombia, footage from minefields in Iraq, and exclusive scenes shot by Afghan and Bosnian deminers.
Defined as a conventional weapon, antipersonnel mines inflict destruction upon civilian populations for decades after the initial conflict has ended. Despite thousands of casualties a year, mines continue to be used and stockpiled by governments and rebel groups.
DISARM juxtaposes government and public opinion, that of outspoken Nobel Peace Prize winner Jody Williams, diplomats, mine victims, deminers, soldiers, and aid workers, to explore the issues that both hinder and further the case against antipersonnel mines.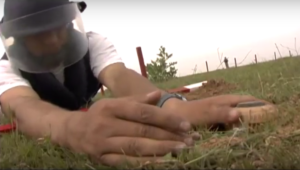 Filmed in United States, Colombia, Afghanistan, Iraq, Bosnia and Herzegovina, Belarus, and Burma, DISARM has had extensive festival exposure including:
Achievement Award (Winner) Newport Beach Film Festival (Newport Beach, United States)
Cowboy Award (Winner) Jackson Hole Film Festival (Jackson Hole, United States)
American Film Institute
Anchorage International Film Festival (Anchorage, United States)
Big Sky Documentary Film Festival (Missoula, United States)
Filmstock International (Luton, UK)
Global Visions Film Festival  (Edmonton, Canada)
Goteburg Film Festival  (Goteburg, Sweden)
RiverRun International Film Festival  (Winston-Salem, United States)
Woods Hole Film Festival  (Woods Hole, United States)
Big Sky Documentary Film Festival (Missoula, United States)
SILVERDOCS: AFI/Discovery Channel Documentary Festival (Silver Spring, United States)
A film by Brian Liu and Mary Wareham / 2009
67 minutes on 1 disc + bonus of 40 minutes of deleted scenes and a Director's Commentary (bonus material on DVD version only)
Language English w/ subtitles in Spanish, French, Portuguese, German, Russian
HOW TO ORDER:
Public Performance and Digital Site Licenses are available through Soundview Media Partners. To inquire or to place an order, write to info@soundviewmediapartners.com or simply choose from the options below:
For group screening prices, please inquire.
In-home/personal use copies are available on Amazon: http://amzn.to/2n64q8F
WATCH THE TRAILER