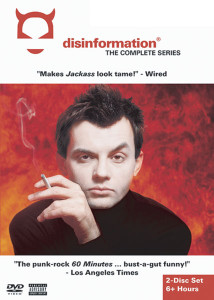 "The punk rock 60 minutes…" – Los Angeles Times
How far do you have to go to go too far for television? Disinformation found out when it aired its own TV series, hosted by Disinfo co-founder Richard Metzger, on the UK's Channel 4 TV network, challenging the network's censors and resulting in Channel 4 refusing to air certain segments. The first season was bizarrely scheduled after Ally McBeal and surely messed with the heads of more than a few fans of that show–evidently the network didn't quite realize what they had paid for. An instant classic of the weird and unusual, the series was a hit (and was bought, but never aired, by the Sci-Fi Channel in the United States).
The deluxe DVD version of DISINFORMATION: THE COMPLETE SERIES features interviews with literary celebs including Illuminatus! author Robert Anton Wilson, popular media commentator Douglas Rushkoff (Media Virus), Lucifer Principle author Howard Bloom, X-Men scribe and comics-genius Grant Morrison, and underground filmmaker Kenneth Anger–people you rarely see on TV. Shock rocker Marilyn Manson is also featured.
480 mins on 2 discs
HOW TO ORDER:
Public Performance and Digital Site Licenses are available through Soundview Media Partners. To inquire or to place an order, write to info@soundviewmediapartners.com or choose from the License Options below:
For group screening prices, please inquire.
In-home/personal use copies are available on Amazon: http://amzn.to/1r57GA3
Watch one 3 minute clip on Satanism