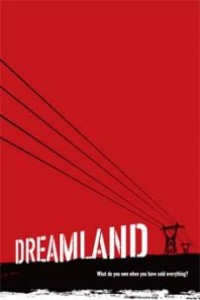 How much unspoiled nature should we preserve and what do we sacrifice for clean, renewable energy?
The stunningly filmed Dreamland gradually turns a land of abundance into a disturbing picture of corporate power taking over small communities… and the country of Iceland itself.
Dreamland is a film about a nation standing at cross-roads.
"Once every five to ten years a film comes along that shakes your soul, rattles the cage of your conscience, and awakes you from a media-immersed cryogenic dream state … the audiovisual awakening is the magnificent breathtaking political documentary Dreamland." – Art Threat
Leading up to the country's greatest economic crisis, the government started the largest mega project in the history of Iceland… to build the biggest dam in Europe to provide mega-corp Alcoa access to cheap electricity for an aluminum smelter in the rugged east fjords of Iceland. Today Iceland is left holding a huge dept and an uncertain future.
In Dreamland, a nation with an abundance of choices gradually becomes caught up in a plan to turn its wilderness and beautiful nature into a massive system of hydro-electric and geothermal power plants with dams and reservoirs. Clean energy brings in polluting industry and international corporations.
Dreamland is the story of the dark side of green energy.
"This is one of the best environmental films ever made. An incredibly, moving, inspiring and fantastically political film that will make you want to be a better steward of this planet." – Cinema Politica
The acclaimed film has traveled the world from Reykjavik to Tel Aviv to Camden, NJ:
Best Documentary (Winner) Edda Awards (Reykjavik, Iceland)
Best Directors (Nominee) Edda Awards (Reykjavik, Iceland)
Best Music (Nominee) Edda Awards (Reykjavik, Iceland)
Best Sound (Nominee) Edda Awards (Reykjavik, Iceland)
Camden International Film Festival (Camden, United States)
DocAviv: Tel-Aviv International Documentary Film Festival 2010 (Tel-Aviv, Israel)
DOCPOINT Film Festival (Helsinki, Finland)
Hamburg Film Festival (Hamburg, Germany)
Hot Docs: Canadian International Documentary Festival 2010 (Toronto, Canada)
Leeds International Film Festival (Leeds, United Kingdom)
and more….
"The film is worth seeing for the visuals alone. The documentary is all the more exceptional given its ability to seamlessly weave a sense of poetic narrative with stark journalistic storytelling. The story is so well told that the film becomes its own cultural art form. It's rare to find a documentary so complete and well-directed." – The Concordian
PG / 89 minutes on 1 disc / Icelandic and English w/English Subtitles
HOW TO ORDER:
Public Performance and Digital Site Licenses are available through Soundview Media Partners. To inquire or to place an order, write to info@soundviewmediapartners.com or simply choose from the options below:
In-Home/Consumer version available on Amazon: http://amzn.to/1UfUF0r
WATCH THE TRAILER