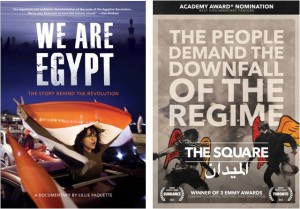 The Egypt Revolution Collection consists of two critically acclaimed films that in different fashion explore the dynamics and the history of the build up to revolution in 2011 that inevitably brought down Mubarak.
When purchased individually, the two films carry a DVD w/PPR price of $425.00. When purchased as a collection, the price is discounted by 12% to only $374.00, a savings of $51.00!
For additional information and to watch trailers about the individual films, click on the film title and then simply hit 'back' in the browser to return to this page.
WE ARE EGYPT: THE STORY BEHIND THE REVOLUTION
Months before 2011's momentous uprising in Egypt many talked of a revolution – but no one knew when that day would come. Going behind the headlines, WE ARE EGYPT – filmed in the 14 months leading up to the Revolution – highlights the years of mounting resentment against the ruling regime.
Deeply embedded inside the turmoil, filmmaker Lillie Paquette followed key opposition figures and young democracy activists as they struggled against extraordinary odds and at great personal risk to remove an uncompromising U.S. -backed authoritarian regime determined to stay in power.
"We Are Egypt is a film about the soul of a long suffering country yearning to throw off the yoke of an aging autocrat and take its place among democratic nations." – Professor Tarek Masoud, Harvard University
DVD w/PPR regularly priced at $200 when purchased individually.
THE SQUARE: THE PEOPLE DEMAND THE DOWNFALL OF THE REGIME
The Oscar nominated documentary depicts the ongoing Egyptian revolution and immerses the viewer in the intense emotional drama of young people on the streets of Cairo claiming their rights and creating a society of conscience. As two governments topple, the personal stories of freedom fighters unfold in an inspiring tribute to the power of citizenship.
"A compelling inside look at the cascading series of revolutions and counterrevolutions that have shaken Egypt since the beginning of 2011." – Chicago Tribune
DVD w/PPR regularly priced at $225 when purchased individually.
HOW TO ORDER:
Public Performance and Digital Site Licenses are available through Soundview Media Partners. To inquire or to place an order, write to info@soundviewmediapartners.com or simply choose from the options below:
For group screening prices, please inquire.