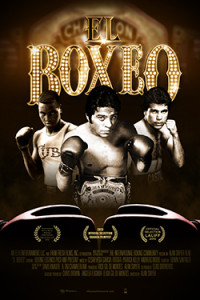 Themes of race, language, culture, economics, politics – and of course boxing – converge in a film about why men fight for a living.
El Boxeo tells the dramatic and timely story of the emergence and dominance of  Latinos in what was once considered the traditional all-white sport of boxing.  The film illustrates the evolution of the sport as Latino fighters exploded  onto the scene. And, reveals how these immigrant pugilists redefined the world  of boxing and established the west coast as the new Mecca in the sport.
El Boxeo is as much a film about Latinos in boxing as it is about the immigrant  stories that reshaped the sport. It's an oral history – a story told by fighters, boxing experts and historians, announcers, commentators, comedians, sportswriters, actors, spouses, entertainers and fans.
"…covers the evolution of the sport through more than 80 interviews with ring legends, promoters and trainers who detail how boxing rose in popularity on the blood and sweat of Latino fighters to became the global industry it is today." – NY Daily News
"Filled with raw emotion and singular observations Swyer's work is poignant and moving, and should be required viewing for anyone trying to understand what makes a human being fight." – Examiner
107 mins on 1 disc
HOW TO ORDER:
Public Performance and Digital Site Licenses are available through Soundview Media Partners. To inquire or to place an order, write to info@soundviewmediapartners.com or choose from the License Options below
For group screening prices, please inquire.
WATCH THE TRAILER