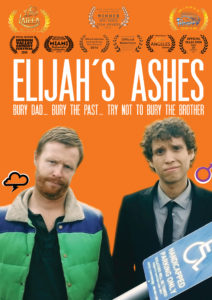 Can you truly accept someone else when you can't even accept yourself?
Lawrence Shaw is a run of the mill guy who just can't get accepted for being who he is. He's not straight enough for his job where he sells testosterone fueled ad campaigns to beer companies and he's not stereo-typically gay enough for his boyfriend.
To make things worse, his father Elijah just died and his dad's last dying wish was for Lawrence to go on a road trip with his extremely homophobic half-brother Kevin to bury his ashes. It's a heroically dumb journey of brotherly love and acceptance that begs the age old question… Can you truly accept someone else when you can't even accept yourself?
With 19 awards to date, the critical acclaim is worldwide.
"LGBTQ comedy Elijah's Ashes is an unabashed exploration of family, sexuality and acceptance within the confines of a road trip setting." – UK Film Review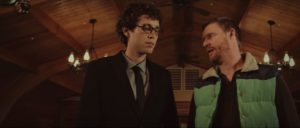 "Although Lawrence is actually not in the closet, he's still struggling to find his identity as a gay man in a slowly progressing world. [Director] Barton-Grimley definitely has a feel for human behavior" – Diamond in the Rough Films
"While you might not expect this to be so, it is a comedy and one of the best that I have seen in a long time. The two brothers are wonderfully created characters and the journey they share is full of unexpected events and happenings. We see that there is a "deep, loving bond that exists between brothers… even ones who despise one another". – Reviews by Amos Lassen
"…about as awesome a character description as you can ask for" – Film Fervor
Awards include
Winner: Actors Awards, Los Angeles, Best Actor in a Comedy
Winner Fort Worth Indie Film Showcase, Best Feature (non-Texas)
Winner: International Filmmaker Festival of World Cinema, Nice, Best Supporting Actor in a Feature Film
Winner: London Independent Film Awards, Grand Jury Prize / Best Actor
Winner; Best Actors Film Festival for Best Actor and Feature Comedy
Winner: Hollywood International Moving Pictures Film Festival, Award of Recognition Feature Drama
Winner: International Independent Film Awards, Gold Award for Narrative Feature
Winner: Los Angeles Independent Film Festival Awards, LAIFF February Award, Best Screenplay
NYC Indie Film Awards, Diamond Award for Best Feature Film
Winner: Oregon International Film Awards, Platinum Award for Best Narrative Feature
86 minutes / 2017 / Color / English language / A film by Ryan Barton-Grimley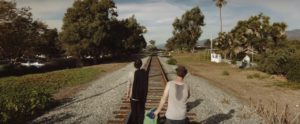 HOW TO ORDER:
Public Performance and Digital Site Licenses are available through Soundview Media Partners. To inquire or to place an order, write to info@soundviewmediapartners.com or simply choose from the options below:
For group screening prices, please inquire.
Stream it at https://amzn.to/2uHAWGI or pick up a copy on DVD for In-home/personal use https://amzn.to/2EcpVg0
WATCH THE TRAILER