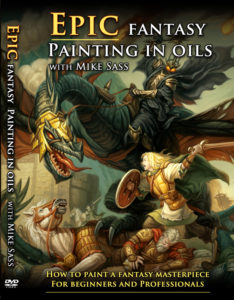 Pop-culture fascination with fantasy and mythology has reached epic proportions in the 21st century. Its themes appear in films, comics, graphic novels and of course video games. Now you can explore how fantastic art is created by a master in field.
Soundview Media Partners proudly presents EPIC Fantasy Painting in Oils, a massive instructional film series on the process of fantasy oil painting by renowned video game artist and illustrator Mike Sass.
Mythology and the fantastic continue to be a vigorous source of inspiration for artists. Most historians date the inception of today's contemporary fantastic art to that of the Romanticism movement in the second half of the 18th century. The parameters of fantastic art were further defined throughout the 19th century, featuring prominently in the pre-Raphaelite and Academic movements. Fantastic art flowered during the Golden Age of Illustration in the early 20th century and since the 1970s has enjoyed a renaissance as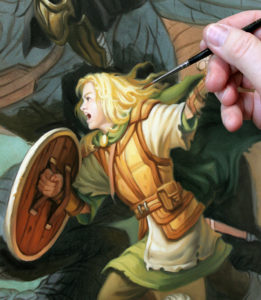 contemporary artists have rediscovered and reconnected to the works of their forbearers.
Mike Sass is one of the rare illustrators working today that uses both computer and traditional oil-painting methods.
"Epic Fantasy Painting in Oils" is the only film produced that teaches game-industry artwork in a traditional manner. These techniques skirt the boundary between fine and commercial art and are valuable lessons for any painter who wishes to work realistically.
About Mike Sass
A pioneer in the video games industry, Mike previously had a long career as legendary developer BioWare's first artist, and for 12 years illustrated for some of the top video games of all time. Mike's experience at BioWare creating box art, magazine covers, concept art and marketing illustrations allowed him to seamlessly transition in 2009 to pursue his true passion of fantasy illustration and oil painting.
Mike Sass' commercial work has adorned some of the gaming industry's most beloved and best selling products over the past 20 years. His illustrations appear on games by Electronic Arts, Blizzard Entertainment, BioWare, Marvel, and Wizards of the Coast. His recent work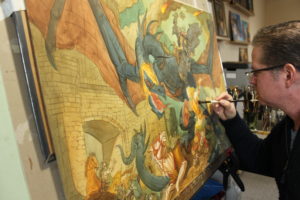 with Blizzard's Hearthstone is seen by 50 million players each month.
For the past 9 years, Mike has created role-playing and card art for the gaming industry's top franchises, including Magic the Gathering, Hearthstone, World of Warcraft, Star Wars, Pathfinder, Marvel and Dungeons and Dragons. Now working almost exclusively in oils, Mike is sought after by clients and collectors to utilize his vibrant style of bringing the fantastic to life.
Mike's personal work explores the theme of "modern mythology" as he re-imagines classic subjects with a modern narrative aesthetic. He is interested in the continuance of the artist's traditional role of interpreting timeless stories from literature and myth.
This extensive 2017 series runs an incredible 5 hours and 40 minutes on two discs. It is fully authored and ready to deliver in high def format both physically and digitally.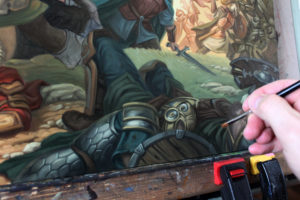 2017 / 5 hours, 40 minutes / English language / Produced and directed by Mike Sass.
All rights are available for world-wide distribution exclusively through Soundview Media Partners. All inquiries should be sent to info@soundviewmediapartners.com.
HOW TO ORDER FOR EDUCATIONAL USE:
Public Performance and Digital Site Licenses are available through Soundview Media Partners. To inquire or to place an order, write to info@soundviewmediapartners.com or simply choose from the options below:
For group screening prices, please inquire.
Order the in-home/personal use copy of the DVD set at https://amzn.to/2IQrPsx
WATCH A 5 MINUTE CLIP