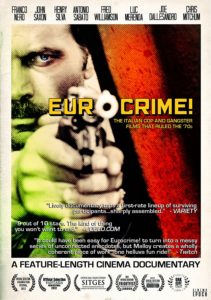 A cinema study of the Italian cop and gangster films that ruled the 1970's.
Eurocrime! is a documentary exploration into the violent Italian "poliziotteschi" cinematic movement of the '70s which, at first glance, may appear as just a bunch of cheap rip-offs of American crime films like Dirty Harry or The Godfather. On closer inspection, these films were really addressing distinctly Italian issues like the Sicilian Mafia and red terrorism and in many cases took the world box office by great surprise.
Features interviews with John Saxon, Frank Nero, Henry Silva, Antonio Sabato, Luc Merenda, John Dallasandro and more.
Official Selection: Atlanta Film Festival, Fantasia Film Festival, SITGES, Frightfest – London
"An abundance of first-hand accounts from most of scene's heavy hitters makes it an invaluable chronicle of one of wilder episodes from Italian cinema. Recommended" – DVD Talk
"An essential and long-overdue documentary on the Italian police thriller and the incredible historical context in which it thrived. Like the raw and ready films it pays tribute to, it's all killer, no filler." – CinemaRetro
"Assembly is sharp, complete with cool retro-style original soundtrack. Vintage clip quality is generally high-grade" – Variety
"As should be the case with any documentary about movies, this one will make you want to search out and see some of these films. After such in-depth discussions you will have to see some of these movies for yourself. In many regards, this is the highest compliment a film like this can receive." – Cynapse
Bonus Feature: The DVD includes a 15-minute interview with Cuban-American actor Tomas Milian
127 minutes on 1 disc
HOW TO ORDER:
Public Performance and Digital Site Licenses are available through Soundview Media Partners. To inquire or to place an order, write to info@soundviewmediapartners.com or simply choose from the options below:
For group screening prices, please inquire.
In-home/personal use copies are available on Amazon: http://amzn.to/2h1kOrh
WATCH THE TRAILER