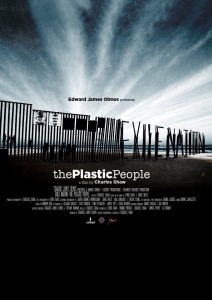 From acclaimed filmmaker Charles Shaw comes a story about the victims of a cruel and indiscriminate U.S. government policy.
Exile Nation: The Plastic People follows US deportees in Tijuana as they struggle to survive a Cartel war zone, living in cardboard shacks and sewer pipes, creating an ever expanding underworld of exiles.
"This film is as important to American awareness as Bowling For Columbine, Into The Abyss or Super Size Me." – Filmmaking Review
"…a glimpse into the lives of some of the stateless individuals who are trying to survive in a kind of Neoliberal purgatory that's not of their making. "Plastic People" is a label that's sometimes given to Mexicans who were raised in the US and are disconnected from Mexican culture. The word "plastic" denotes both their perceived superficiality and their disposable nature." – Open Democracy
The September 11th attacks began a decade-long period of anti-immigrant policies in the United States. As a consequence, the US began the mass-deportation of "non-citizens." Current estimates are between 4 to 6 million. Those hit hardest by these new policies were Latinos, primarily Mexicans, who make up 97% of those deported. They return to a country with a devastated economy in the midst of a cartel war. Stripped of all identification they are considered "illegal" in Mexico too, and as a consequence, unemployable…and criminal.
Disavowed by both nations, these people struggle to survive in a hellish limbo along the border, separated from everyone and everything they know. At a rate of 400 a day, Tijuana is where most end up.
The Plastic People is a film about those who left Mexico years before to build a new life in the States, had families, and contributed to their communities, yet still had not achieved citizenship. Children were taken from parents, leaving tens of thousands as wards of the state. Many were deported without any hope of returning, their families trapped on the other side of the border.
Shot on location in Tijuana, this film follows the lives of three men who have found themselves stuck in an impossible situation as drug addicts, criminals and deportees, and who they become under these extraordinary conditions; how they find meaning, purpose and ultimately, redemption. In the background is a tableau of Mexican-American deportees living along the border just twenty miles from San Diego in the middle of a Cartel war zone. The Plastic People reveals how the exploitative policies of a failed war on drugs and immigrants added Tijuana's "Zona Norte" to the growing international crisis of nationless refugees and deportees.
Based on the work of Chris Bava and Jorge Nieto.
"3.5 stars: The rough edges of Charles Shaw's documentary can be forgiven, as key sequences had to be filmed with miniature videocams and cell phones while Shaw explored the dangerous Zona Norte, a no-man's land on the outskirts of Tijuana. Located some 20 miles south of San Diego, the area is a poster child for dysfunctional immigration policies on the U.S.-Mexican border. Narrator Edward James Olmos (who also co-produced) says that this is where Mexican-Americans, including those with many years of U.S. residence, are summarily dumped/deported for relatively minor lawbreaking (such as drug use) and incomplete citizenship. The blame is placed on badly written laws, ranging from racist anti-Mexican legislation of the 1930s to hysterical policies enacted after 9/11. Either way, Zona Norte is a violent, volatile place of banishment for these largely homeless, so-called plastic people—Mexican-Americans who are welcome neither in Mexico nor America. No official voices from either country are heard here, although the filmmaker does talk with grassroots activists, such as the late Chris Bava, a photographer who made a specialty of humanizing these outcasts. A timely film given the current election-year immigration controversy, this is HIGHLY RECOMMENDED." – Video Librarian
75 minutes on 1 disc / 2014 / closed captioned
HOW TO ORDER:
Public Performance and Digital Site Licenses are available through Soundview Media Partners. To inquire or to place an order, write to info@soundviewmediapartners.com or select from the License Options below:
For group screening prices, please inquire.
In-home/personal use copies are available on Amazon: http://amzn.to/1RG7XTc
WATCH THE TRAILER