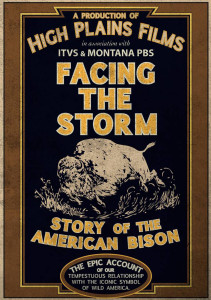 A production of ITVS and Montana Public Television, "Facing the Storm" is the epic account of our historical and tempestuous relationship with the American bison.
These animals once dominated the plains of North America and numbered in the tens of millions. Native Plains Indians shared a sacred relationship with the species that went far beyond survival and sustenance. Then, in the nineteenth century, they were nearly eradicated from the continent, and an entire Plains culture was forever changed.
"Beautifully documented, both historical documentary and wildlife film, FACING THE STORM may be the most comprehensively-concise examination of how and why we managed to nearly eradicate 30 million animals from the Great Plains in less than 50 years, and what's being done today to ensure their survival". — Missoula Independent
"Directed by national Emmy-nominee Doug Hawes-Davis, the film explores efforts to protect and restore bison herds and details the complex relationship between the Plains Indians and the animal" -Great Falls Tribune
78 minutes on 1 disc
HOW TO ORDER:
Public Performance and Digital Site Licenses are available through Soundview Media Partners. To inquire or to place an order, write to info@soundviewmediapartners.com or simply choose from the options below:
For group screening prices, please inquire.
In-home/personal use copies are available on Amazon: http://amzn.to/295pBUl
WATCH THE TRAILER