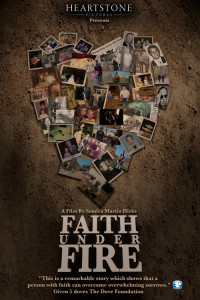 "5 Doves: This is a remarkable story which shows that a person with faith can overcome overwhelming sorrows. This is an amazing story of forgiveness and God's presence in the midst of suffering." – The Dove Foundation
FAITH UNDER FIRE is a true story of God's presence in the midst of suffering. It is a story of a community's struggle with betrayal, the shock to their faith, and the death of loved ones after a former schoolteacher opens fire during an East Texas church service in the summer of 1980. The film is also a tribute to  four brave men that  raced into the face of gunfire, saving the lives of hundreds of people.
Thirty years after that tragic day, survivors share their journey to heal. A pastor, who's small child was killed that day, reveals publicly for the first time his shocking plans to murder the gunman during court proceedings. The anger, rage and guilt he carried for thirty years cost him nearly everything. The assassin's family reveals shocking secrets that pushed him to commit this terrible act.
Ultimately, Faith Under Fire is a story of faith and hope leading a community out of the depths of despair to the path of forgiveness and restoration and ultimately peace.
3 stars: "With the 2015 Charleston church shooting so fresh a tragedy, this documentary…offers a potent reminder of how often such events occur in America. Recommended Overall" – Video Librarian
"My prayer is that God brought some healing to several people within this documentary, as well as it would be a tool for others to find forgiveness too, especially those that have found themselves in similar tragic situations and experienced tremendous loss." – Christian Film Database
95 minutes on 1 disc
HOW TO ORDER:
Public Performance and Digital Site Licenses are available through Soundview Media Partners. To inquire or to place an order, write to info@soundviewmediapartners.com or select from the License Options below:
For group screening prices, please inquire.
In-home/personal use copies are available on Amazon: http://amzn.to/22s8hKs
WATCH THE TRAILER