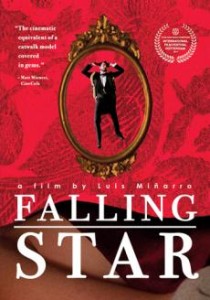 November 1870. Spanish Courts elect the Italian Amadeo of Savoy as the King of Spain with a paltry 191 votes.  His reign was short….
With Spain embroiled in a struggle pitting Carlists against Bourbonists, Amadeo, Duke of Aosta, second son of Victor Emanuel II of Italy, was nominated as the Spanish king. He was sworn into office in January 1871 and abdicated in February 1873, following a reign stymied by political chaos and the knowledge, from all sides (himself included), that his time on the Spanish throne was always going to be brief.
That's the history. In "Falling Star," Amadeo (Alex Brendemuehl) arrives in his kingdom and immediately steps into a puddle, literally and figuratively. The man who championed his appointment, Gen. Prim, was assassinated days before Amadeo took the throne, and in his new castle (exteriors were shot at Italy's Castel del Monte), no one is there to greet him.
Ministers block him from actually ruling, so the king is trapped in a gilded cage, bored but not especially bothered, admiring personal secretary Alfredo (Lorenzo Balducci), who has intercourse with a melon, and a seductive servant (Alex Batllori), who shaves his pubic hair in the larder.
"…presented in distinct scenes whose acknowledged visual influences include Gustave Courbet, Francisco Goya and Emil Nolde, among many others" – Variety
"…the film functions as a metaphor for contemporary Spain and its ongoing state of crisis." – Eye for Film
WINNER: Gaudi Awards / Best Costume Design, Best Art Direction and NOMINATED for 11 additional awards.
Directed by Luis Miñarro / 105 minutes on 1 disc / Catalan w/ English sub-titles
HOW TO ORDER:
Public Performance and Digital Site Licenses are available through Soundview Media Partners. To inquire or to place an order, write to info@soundviewmediapartners.com or simply choose from the options below:
For group screening prices, please inquire.
In-home/personal use copies are available on Amazon: http://amzn.to/1WOH5Yf
WATCH THE TRAILER