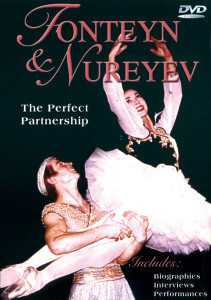 Margot Fonteyn & Rudolph Nureyev – The Perfect Partnership
Peter Batty's famous film covers the most sensational story in Ballet which is stranger than fiction – an establishment English ballerina's unlikely teaming with a young Russian defector, half her age, to become the most glamorous ballet coupling of the glamorous sixties and seventies. Theirs is a story of politics, drugs, shootings and international fame.
This great release includes performances of 'Giselle', 'Le Corsaire', 'les Sylphides 1&2', 'Marguerite et Armand', 'Swan Lake', 'Birthday Offering' (dress rehearsal), 'Hamlet and Ophelia', and 'Romeo and Juliet'.
Also included in the DVD are interviews with Ninette de Valois, Margot Fonteyn and Rudolph Nureyev, plus film from cameras smuggled into performances, film of Nureyev's arrest on drug charges and a selection of extracts from their most famous ballets.
100 minutes on 1 disc
HOW TO ORDER:
Public Performance and Digital Site Licenses are available exclusively through Soundview Media Partners. To inquire or to place an order, write to info@soundviewmediapartners.com or select from the License Options below:
For group screening prices, please inquire info@soundviewmediapartners.com
In-home/personal use copies are available on Amazon: http://amzn.to/1ZJBn6R