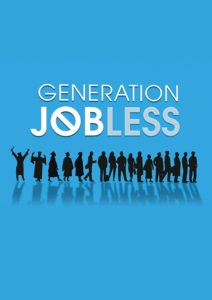 In Canada, while the economic recovery has eased for many, the youth unemployment rate remains staggering – double that of the general population. The CBC documentary Generation Jobless explores the crisis of over-educated youths being underemployed, scraping by in low-paid, part-time jobs that do not require a degree just to pay off their debt while struggling to find real jobs. Some call them the lost generation, but it is not only young people who will pay the price.
If this generation is unable to forge a way into the economy, whose taxes will support the social safety net? If young people can't afford to buy homes, will the real estate market come crashing down again?
Youth unemployment and underemployment is a ticking time bomb with consequences for everyone.
Features interviews with
Francis Fong, Economist, TD Bank
Armine Yalnizyan, Sr. Economist, Canadian Centre for Policy Alternatives
Lauren Friese, Owner, Talent Egg
43 minutes on 1 disc / 2015
HOW TO ORDER:
Public Performance and Digital Site Licenses are available through Soundview Media Partners. To
inquire or to place an order, write to info@soundviewmediapartners.com or simply choose from the options below:
For group screening prices, please inquire.
In-home/personal use copies are available on Amazon: http://amzn.to/2nSvkRU
Watch the trailer