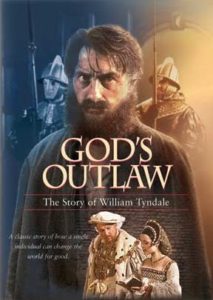 The church state called it heresy; a crime punishable by death. William Tyndale called it God's word.
A true story, God's Outlaw is about international politics, church intrigue, cold-blooded betrayal, and false justice ending in a criminal's death. But it's also about victorious faith and spiritual triumph over some of the greatest political and religious forces known in the 16th century.
A simple God-seeking man, William Tyndale somehow became one of the most wanted men in England and all throughout Europe. Pursued by King Henry VIII, Lord Chancellor Sir Thomas More, and the Pope's personal legate Cardinal Wolsey, Tyndale darted across Europe to avoid capture — always pushing to complete the task that obsessed him.
The task was translating the Bible into English and publishing it for his fellow countrymen — Englishmen who lived in a country where the Bible and even prayers in English were outlawed by a harsh and rigid religious establishment.
Today William Tyndale is renowned as "the father of the English Bible," and is recognized as one of the major leaders of the English Reformation. But the tale of how he lived and died as "God's Outlaw" is a compelling "rest-of-the-story," and is especially a moving encouragement for modern people of faith.
Starring Roger Rees, Willoughby Goddard, Keith Barron, Oona Kirsch, Bernard Archard and more.
Notable critical acclaim: 
WINNER: Gold award / Houston International Film Festival
WINNER: Best Cinematography / Christian Film Distribution Association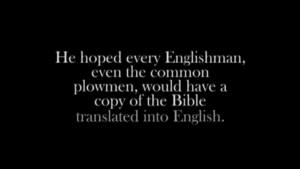 "This story of the life of early English Bible translator William Tyndale is a gem in the crown…" – Visual Parable
"While God's Outlaw might seem at first like a fictitious adventure story, this award-winning drama is the true story of William Tyndale. Tyndale was a brilliant 16th-century linguist capable of speaking seven languages. His passion was to translate the Bible into English so that even a plowman could have the word of God available to him. At that time, the Bible and even prayer were denied to the English people in their own language. Because of Tyndale's work, he was declared a heretic and an outlaw, and was pursued by Henry VIII, Sir Thomas More and Cardinal Wolsey. For ten years he eluded capture until his betrayal by a trusted friend landed him in prison. At his trail he sounded very much like Martin Luther in his refusal to recant his works. He was declared a heretic and, eventually, burned at the stake. In an ironic twist two years later, Henry VIII ordered copies of Tyndale's Bible be placed in every church. Today, Tyndale is recognized as the father of the English Bible." – Library Alive
"You can thank the 16th century rebel William Tyndale — the "father of the English Bible" — for not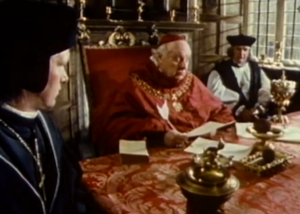 having to read scripture in Latin, the preferred language of Tudor England's Catholic Church, which kept rigid control over the dissemination of God's word (the Latin Bible assured church leaders that the rabble who formed their congregations would never sully the Word of God with their sweat-stained fingers). William Tyndale changed all of that with his desire to make the Bible available to all, eventually becoming the most hunted man in England (Tyndale would complete his English translation of the New Testament in 1525 in Germany; a decade later he would be executed). Roger Rees (The Emperor's Club, The Life and Adventures of Nicholas Nickleby) vividly brings Tyndale to life in this feature-length historical drama that draws on the spectacularly beautiful English countryside to tell its story. DVD extras include an abridged version with commentary by religious scholar Ken Curtis, and a DVD-ROM-accessible article and study guide/worksheets in PDF format. Recommended." – Video Librarian
DVD Features:
– Chapter titles for easy scene access
– Biographical information on director and leading actors
– In the DVD-ROM folder: Christian History magazine article and study guide/worksheets in PDF format
– Abridged version with commentary by Ken Curtis
93 minutes on 1 disc / 1987 / 480 x 368 / English, Spanish, Korean, Portuguese w/English and Korean sub-titles.
HOW TO ORDER:
Public Performance and Digital Site Licenses are available through Soundview Media Partners. To inquire or to place an order, write to info@soundviewmediapartners.com or simply choose from the options below:
For group screening prices, please inquire.
In-home/personal use copies are available on Amazon: http://amzn.to/2q3KdFI
Watch the trailer…