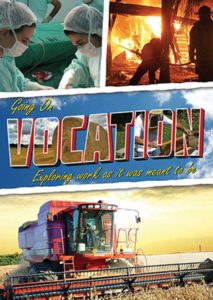 Exploring work as it was meant to be… connecting your personal and work life with Christian values.
"Embracing the concept of "bloom where you're planted," these individuals exemplify the aim of serving and living their faith every day, in every way. Offering a solid exploration of the intersection of faith and work, this is recommended." – Video Librarian
Many people spend an inordinate amount of time working at a job that seems to have little purpose other than to make money. Working just to pay the bills can result in boredom, frustration, being overwhelmed and unfulfilled.
Working in our society is essential. It is part of the fabric of our lives. Many people DO find fulfillment in their jobs. It all depends on their perspective and how work is viewed.
Going on Vocation is a two-part documentary (8 chapters) and teaching series that explores how work can be turned into more than a job. The two primary chapters are entitled "You Are Called" and "Be Transformed".
Through personal stories of ordinary people at work, and expert insight and advice from some of today's leading voices on faith and work, viewers will discover that vocation or calling is about much more than your paid job. This series will challenge you to look at work in a whole new way and reap the positive returns of connecting your personal identity and work life with Christian values.
"I plan to share it with students in my Career Counseling courses to aid them in reflecting on their own callings, as they prepare to assist others in finding meaningful work. Highly recommended" – Ruth Baugher Palmer, PhD, Professor of Counseling Psychology, Eastern University, St. Davids, PA
"There are excellent participants in the documentary, from David Miller, Director of the Princeton University Faith & Work Initiative to Ray Babcock, retired airline pilot and beekeeper, to Adrienne Tressler, server at the Chrome Grill in Connersville, Indiana. The documentary is primarily aimed at adult workers, but college age or mature high school age students would benefit from viewing the film, especially as they begin to enter the workforce." – Visual Parables
100 minutes (two parts/8 segments) / 2015 / Widescreen. Optional English subtitles.
HOW TO ORDER:
Public Performance and Digital Site Licenses are available through Soundview Media Partners. To inquire or to place an order, write to info@soundviewmediapartners.com or simply choose from the options below:
For group screening prices, please inquire.
In-home/personal use copies are available on Amazon:
Watch the trailer, of if you prefer, you can view Chapter 1 of 8 at vimeo.com/user37044736/review/146009812/71cddc8ecc.