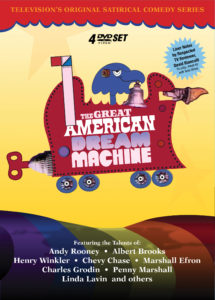 14 historical episodes of 1970's PBS series The Great American Dream Machine…
The Great American Dream Machine was a weekly satirical variety television series, produced in New York City by WNET and broadcast on PBS from 1971-1973.
The program was hosted by humorist and commentator Marshal Efron. Other notable cast members included Chevy Chase, Paul Jacobs, Henry Winkler, Penny Marshall, Charles Grodin, Linda Lavin to name a few, and contributors included Albert Brooks and Andy Rooney.
The Ford Foundation backed the series with $2 million in 1970's money and The Washington Post wrote at the time that "anyone who hasn't given up on television really ought to take a look at it."
The hour and a half long show usually contained at least seven different current event topics. In the second season, the show was trimmed down to an hour.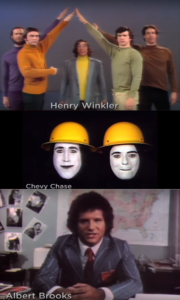 "This ground breaking show was the first to combine animation, short films, satirical sketches, drama and political commentary in a magazine format" – Jack Willis Films
John Lennon praised the show in a 1972 radio interview, saying "But this Great American Dream Machine that they have on [New York-area public TV station] Channel 13 is as good as, if not better than, anything that's on British TV, including Monty Python's Flying Circus".
IPF wrote "The Great American Dream Machine comes close to being what television's all about."
The show began and ended with patriotic marching music and red, white, and blue GREAT AMERICAN DREAM MACHINE lettering, striped like an American flag. There was an animated "machine" of sorts, with complex moving parts, that had no evident function. The background contained all sorts of fireworks, spinning sparklers, and Roman candles. The title theme was composed and performed by Steve Katz of Blood, Sweat & Tears fame.
1971-1973 / 650 minutes on 4 discs / English / Directed by Colin Higgins
HOW TO ORDER:
Public Performance and Digital Site Licenses are available through Soundview Media Partners. To inquire or to place an order, write to info@soundviewmediapartners.com or simply choose from the options below:
For group screening prices, please inquire.
In-home/personal use copies are available on Amazon: https://amzn.to/2VowAOu
Watch the trailer