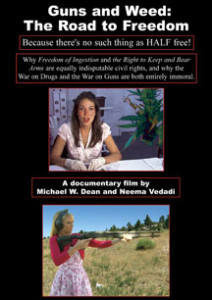 Because there's no such thing as Half Free…
A stunning and entertaining examination of Constitutional issues in America. Covers abuse of authority by police, drug laws, problems of a two-party system, self-defense, States' Rights, Natural Rights and taxation. Guns and Weed: The Road to Freedom shows, in no uncertain terms, why Freedom of Ingestion AND the Right to Keep and Bear Arms are equally indisputable civil rights.
"GUNS AND WEED is an intelligent documentary addressing prohibition, regulation, taxes, government schools and property. It wisely advocates that if you want to be free, you must stand up for the liberty of other peaceful humans, even those who would do or possess things with which you disagree." — Ian Freeman, Free Talk Live radio
"I'm impressed with how well you presented such a difficult synthesis of two freedom-loving cultures which often view each other as antithetical. The message of 'Live and let live' shines through in this very hip and unique video." — Boston T. Party, author, 'Boston's Gun Bible'
99 minutes on 1 disc
How to Order
Public Performance and Digital Site Licenses are available exclusively through Soundview Media Partners. To inquire or to place an order, write to info@soundviewmediapartners.com.
Non-PPR edition available on Amazon: http://amzn.to/1QqFNz0
WATCH THE TRAILER