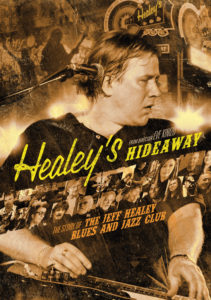 Despite being blind, Jeff Healy (March 25, 1966 – March 2, 2008) never let his physical challenges stand in his way.
"He was like another one of my sons…(exhales hard)… oh my God."  – BB King
Healy's Hideaway is a feature length documentary about Jeff Healey, his club, his career and the A-List musicians who played with him over the years.
No one embodies the defiant spirit of rock and blues quite like Jeff Healey. Born in Toronto on March 25th, 1966, the Canadian's childhood was shattered with the diagnosis of the rare ocular cancer, retinoblastoma… yet it never broke his stride.
Through the late-'80s, '90s and post-millennium, Jeff's jaw-dropping guitar style and soul-drenched vocals saw him rise to multi-platinum sales, worldwide acclaim and collaborations with the likes of Stevie Ray Vaughan, B.B. King, John Mayall, Eric Clapton, The Rolling Stones, Lenny Kravitz, George Harrison, Mark Knopfler and Ian Gillan.
"Jeff was one of the sweetest, most humble and talented artists I've met" – Bonnie Raitt
Jeff Healey, a true Canadian, born and raised in Etobicoke, ON was a talented musician well known for his phenomenal guitar playing as well as other music instruments. Jeff was an unusually talented musician who despite being blind, never let his physical challenges stand in his way.
His career started when he was still a teenager performing with his high school band and later on, around the city at any Blues club that would let him play. Before he knew it, he was already touring across Canada and around the world. The breakup of the "Jeff Healey Band" made Jeff decide he wanted to open a Blues Club in Toronto where he would be able to invite guest artists and play any kind of music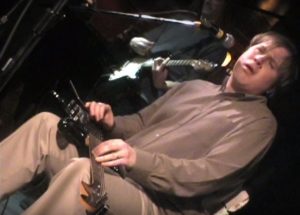 he'd like. The club had legendary musicians gracing the stage. It also allowed Jeff play the music he was most passionate about-Traditional Jazz from the 1920's & 30's.
"Healey's Hideaway" tells the story of the Jeff Healey club ,the A- list musicians who played there and of course the amazing talent that Jeff had as a blind musician who never let his disability stop him from doing what he loved most – Music.
The movie includes interviews with The Jeff Healey House Band, The Jazz Wizards, Ronnie Hawkins (The Hawk) , Randy Bachman, Burton Cummings, Cristie Healey, Toney Springer, Michael White, Paul James and many others with rare live performance footage from the club with Jeff Healey, Ian Gillan (Deep Purple), Jimmy Bowskill to name a few.
Festival admirations:
Official Winner: Women's Only Entertainment Film Festival
Official Selection: Bay Street Film Festival, Thunder Bay, ON ,CA
Official Selection: Mosaic World Film Festival, Rockford,IL
DVD bonus material includes
The Jeff Healey Blues Band Jam
Tony Springer 'Wild T' Guitar Jam
Bonus stills
71 minutes on 1 disc / color / 2014 / Directed by Eve Kinizo
HOW TO ORDER:
Public Performance and Digital Site Licenses are available through Soundview Media Partners. To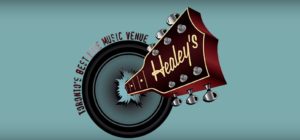 inquire or to place an order, write to info@soundviewmediapartners.com or simply choose from the options below:
For group screening prices, please inquire.
In-home/personal use copies are available on Amazon: http://amzn.to/2wXtfwz
WATCH THE TRAILER