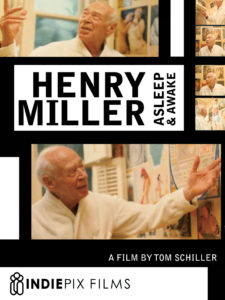 Filmed when the author was 81 (1975), HENRY MILLER ASLEEP & AWAKE is a voyage of ideas about life, writing, sex, spirituality, nightmares, and New York that captures the warmth, vigor and high animal spirits of a singular American artist. The man is Henry Miller and the room is his bathroom.
It's a miraculous shrine covered with photos and drawings collected by the author over the course of his long and fruitful life. Graciously, in his raspy, sonorous voice, he points out the highlights of his improvised gallery, speaking of philosophers, writers, painters, mad kings, women, and friends.
"Should raise anyone's morale." – Nora Sayre, New York Times
"A gem of reminiscence." – Lawrence Durrell
35 minutes on 1 disc / 1975 / A film by Tom Schiller
Note: The quality of the film transfer is un-restored SD and should be noted as such, but the content speaks for itself.
HOW TO ORDER: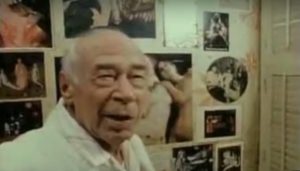 Public Performance and Digital Site Licenses are available through Soundview Media Partners. To inquire or to place an order, write to info@soundviewmediapartners.com or simply choose from the options below:
For group screening prices, please inquire.
In-home/personal use copies are available on Amazon: https://amzn.to/2JDDSqj
WATCH THE TRAILER