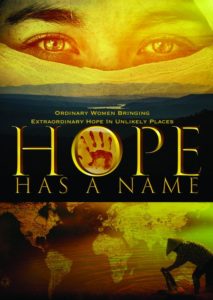 Ordinary Women bringing extraordinary hope in unlikely places…
In urban America, the bush of Africa, the war zone of the Congo, and in closed nations there are women who are living outside their own cultures, society, and comfort level to care for orphans, build schools, liberate addicts, feed the poor, and love the broken.
These ordinary women are reaching into hopeless situations of people and creating hope. A few have names you may recognize, while many are mostly unknown.
In "Hope Has a Name", voices come together to craft a powerful narrative. Together they take you on an intimate journey into their worlds and lives as they make hope come alive—and with it the belief that we can all do something.
"Like smelling salts to a new generation of world-changers and a sleeping church." -Lisa Johnson, Founder of Reach Story U
"Leaves you speechless and inspired to take a stand and join them in changing the world. This is a must watch for anyone who believes they were born for more!" – Krista Anderson, Author of "Claim Your Healing"
"The stories will touch many and will grip your heart like never before. It's a must watch for all." – Sharon Kon, Producer of The Father's Love
Winner: Best Christian Documentary, Christian Family Film Festival
Nominated for Best Documentary, International Christian Film and Music Festival
Official Selection at Love International Film Festival and Hollywood International Independent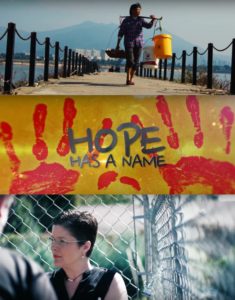 Documentary Awards
Included among the voices are
Heidi Baker – Co-founder of Iris Global
Amy Lancaster – We Will Go Ministries
Deena Van't Hul – Hidden Treasures Home
Jessica Goodman – Village of Hope
Cassandra Lee – Actress
Dr. Randy Clark – Founder, Global Awakening
Will Hart – Will Hart Ministries
and more…
2017 / 107 minutes / color / 16×9 / English language / A film by
Kyle Saylors  (The Backyard Diaries)
HOW TO ORDER:
Public Performance and Digital Site Licenses are available through Soundview Media Partners. To inquire or to place an order, write to info@soundviewmediapartners.com or simply choose from the options below:
For group screening prices, please inquire.
In-home/personal use copies are available on Amazon: https://amzn.to/2XxtJTl
WATCH THE TRAILER