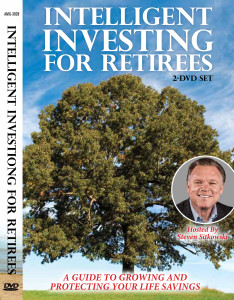 New for 2017
You've built your nest egg.  Your retirement years have arrived and it's critical your capital allocation plan allows you peace of mind.  Intelligent Investing… is devoted to maximizing your retirement income, keeping pace with inflation, minimizing investment fees, and doing it safely.
Learn proven techniques for protecting (while growing) your money, regardless of market fluctuation.  Most financial advisors can only make you money when the market is bullish.  Remember 2000 and 2008 when typical investors lost 30-50% of their investment accounts?  During market corrections, you can be prepared and protected.
Host Steven Sitkowski is a 40-year veteran in financial services and education. A former stockbroker, Registered Investment Advisor, and Certified Financial Planner, Mr. Sitkowski has lectured to over one million people about taking control of their investments.
Learn to intelligently build a dividend-rich stock portfolio, how to enjoy the high yields and growth potential of REITS, how to create an income stream using options, how to protect against a market crash, and much more.  Don't make Wall Street richer.  Keep more of your hard earned investment dollars.
Bonus material includes a free PDF copy of Steve Sitkowski's best-selling book "Trade Like the Pros: A step-by-step guide to making money, trading equities, ETFS and options".
WHAT'S GOOD FOR YOUR BROKER MAY NOT BE GOOD FOR YOU!
187 minutes on 2 discs
HOW TO ORDER:
Public Performance and Digital Site Licenses are available through Soundview Media Partners. To inquire or to place an order, write to info@soundviewmediapartners.com or simply choose from the options below:
For group screening prices, please inquire.
In-home/personal use copies are available on Amazon: http://amzn.to/2eaUndh
WATCH THE TRAILER