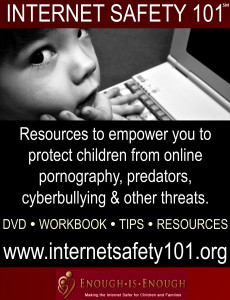 A multi-part program series and response to the Internet child safety crisis facing our nation as broadcast nationally on PBS. 
Executive produced by Donna Rice Hughes, President of Enough Is Enough®, the multi-chaptered Internet Safety 101® program is a first-of-its-kind teaching series that paints a comprehensive picture of online dangers and safety solutions.
INTERNET SAFETY 101® is designed to prevent Internet-initiated crimes against children through educating, equipping and empowering parents, educators and caring adults with the knowledge and resources needed to protect children from online pornography, sexual predators and cyber-bullies, as well as cyber security risks related to social networking, online gaming and mobile devices.
The multi-award winning series (Emmy and Telly) is an invaluable and practical resource  in an ever-evolving Internet world.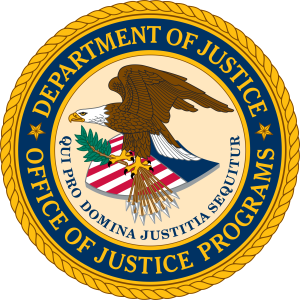 Paid for in part by The Office of Juvenile Justice and Delinquency Prevention, U.S. Department of Justice  
The series has garnered incredible endorsements. Below are some samples:
"[Enough Is Enough®] is an organization devoted to keeping pornography off kids' computers" – Katie Couric, The Today Show
"Donna is one of the leaders in the fight against pornography aimed at children on the internet" – Oprah Winfrey
"Donna Rice Hughes has been warning about the dangers of the internet for years"  – Dateline NBC
"Donna continues to fight for the cause…Speaking out for new laws and diligent enforcement of them." – Barbara Walters, 20/20
"By continuing to speak out and partner with the rest of the Internet, Donna Rice Hughes is helping all of us build a medium we can be proud of." – Steve Case, former Chairman, America Online, Inc.
HOW TO ORDER:
EDUCATIONAL AND PUBLIC PERFORMANCE LICENSING is available through Soundview Media Partners. The series is available in either English or Spanish language versions. Inquiries or questions? Write to info@soundviewmediapartners.com. OR, simply choose from the License Options below:
ORDER THE ENGLISH LANGUAGE VERSION (just below)
ORDER THE SPANISH LANGUAGE VERSION (just below)
Note: The DVD w/PPR includes the 4-part DVD plus a workbook as PDF on disc 2: $200
Consumer edition available on Amazon http://amzn.to/1Snh62O 
PROGRAM INFORMATION
Internet Safety 101® (DVD in 4 parts)  / Run time of 2 hours and 30 minutes
Internet Safety 101® ( DVD in 4 parts) (Spanish Edition) / Run time of 2 hours and 30 minutes  
Supportive Curricula Materials available include:
A 245 page workbook curriculum which complements and expands upon the Internet Safety 101® DVD, and serves as a reference tool for all of the information covered in the program series.
WATCH THE TRAILER