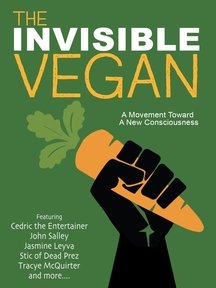 The leading causes of death in the African-American community are heart disease, diabetes, cancer and strokes. All are health related, and many are the result of diet.
The Invisible Vegan is an inspirational 90-minute documentary that explores the historical problem of unhealthy dietary patterns in the African-American community. Throughout, it looks closely at the underlying agribusiness and potential conspiracies that have exacerbated the problem.
The film then addresses the current climate for change,  foregrounding the health and wellness possibilities enabled by plant-based vegan diets and lifestyle choices, a movement that is being adopted by many.
Featuring interviews with luminaries such as Cedric the Entertainer (actor and comedian), John Salley (former NBA player and wellness advocate), Dr. Milton Mills (Associate Director of Preventive Medicine with the Physicians Committee for Responsible Medicine), Clayton Gavin (aka Stic of the hip-hop duo Dead Prez) and more, this enlightening documentary shows how intertwined histories of slavery, twentieth-century socioeconomic inequalities, and the rise of Big Food, have led to the increased consumption and dependence on meat,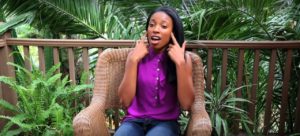 processed, junk, and fast food.
Inspired by Ralph Ellison's 1952 firsthand account of alienation as an African-American in The Invisible Man, the title of this documentary evokes the ways in which prevailing attitudes and stereotypes about veganism within the African-American community have rendered the benefits of this lifestyle invisible within spheres of popular culture, social experience, and political debate.
The documentary begins with the personal story of Jasmine Leyva, a 30-year-old black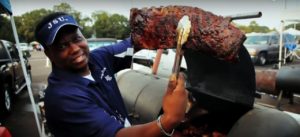 actress and filmmaker currently based in Los Angeles. Taking Leyva's unhealthy childhood growing up in Washington, DC as a point of departure, the film interweaves her narrative with the professional and personal experiences of a prominent group of vegan activists.
"Over the past three decades, coronary heart disease and diabetes have steadily grown as the leading causes of health problems in America, disproportionately impacting the African-American community in particular." – Your Daily Vegan
2019 / 90 minutes / color / English / A film by Jasmine Leyva
HOW TO ORDER: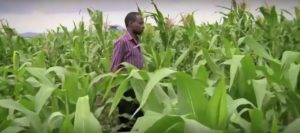 Note: The DVD version of this film is delivered as a DVD-R in plain non-commercial packaging.
Public Performance and Digital Site Licenses are available through Soundview Media Partners. To inquire or to place an order, write to info@soundviewmediapartners.com or simply choose from the options below:
For group screening prices, please inquire.