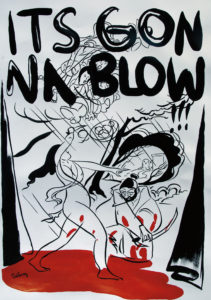 A film about community, hype, and musical incest.
"A fascinating portrait of rebellion in a conservative town." – Beth Accomando, KPBS News
It's Gonna Blow!!! is the story of San Diego's legendary 1990's music scene and its brief, ill-fated reign as the 'next Seattle'. A motley community of musicians with a do-it-yourself ethos and an aversion to mainstream culture develop their idiosyncratic sounds in the isolation of San Diego, but soon find themselves at the center of bidding wars and expense account lunches. What happens when the outcasts become the next big thing?
Drawing from previously unseen performance footage and interviews with over sixty musicians, promoters and artists such as John Reis (Rocket from the Crypt, Drive Like Jehu), Justin Pearson (The Locust, Swing Kids), Rob Crow (Pinback, Heavy Vegetable), Luke Jenner (The Rapture), Pall Jenkins (Three Mile Pilot, Black Heart Procession), Tom Delonge (Blink-182), Mario Rubalcaba (Clikatat Ikatowi, Off!), the film explores the birth of San Diego's innovative post-hardcore scene and its early 90s 'Next Seattle' hype.
Featuring interviews and performances from Drive Like Jehu, Rocket from the Crypt, Trumans Water, the Locust, Three Mile Pilot, Heavy Vegetable, Blink 182, Crash Worship, No Knife, Heroin, Antioch Arrow, Boilermaker, Clikatat Ikatowi, Unbroken,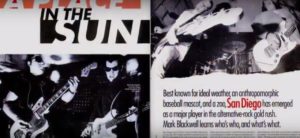 Fishwife, Tanner, Physics, Pitchfork, Creedle, Swing Kids, Sub Society, Neighborhood Watch, Inch, Funeral March, Amenity and others.
Track listing:
Bullet Train to Vegas
Jackie Chan is a Punk Rocker
Ginger Virus
Feeding of the Birds
Sturdy Wrists
People Like That Should Be Spayed
Shang vs Hanger
DVD bonus material:
Interview outtakes
Rare live footage
Flyer gallery
Commentary track featuring Bob Barley (Tit Wrench), Rob Crow (Pinback), Glen Galloway (Trumans Water), Ely Moyal (Trumans Water), O (Fluf), Justin Pearson (The Locust), Matt Reese (Funeral March) and director Bill Perrine
2014 / 86 minutes / A film by Bill Perrine
If this film appeals to you, you might also be interested in 'Salad Days: A Decade of Punk in Washington, DC', also available through Soundview.
HOW TO ORDER "It's Gonna Blow!!!":
Public Performance and Digital Site Licenses are available through Soundview Media Partners. To inquire or to place an order, write to info@soundviewmediapartners.com or simply choose from the options below:
For group screening prices, please inquire.
In-home/personal use copies are available on Amazon: http://amzn.to/2yEt05D
WATCH THE TRAILER