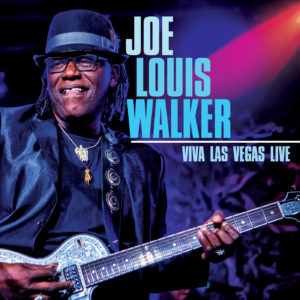 Grammy Award nominee and Blues Hall of Fame guitarist and singer/songwriter Joe Louis Walker and his band storm thru 10 smoking tracks live in concert at the Boulder Station Casino in Las Vegas, Nevada in 2019. The stunning live performance was captured in all its glory and the physical version includes complimentary audio CD companion, packaged in a beautiful four-panel Digi-pak.
Joe Louis Walker, also known as JLW (born December 25, 1949) is an American musician, best known as an electric blues guitarist, singer, songwriter and producer. His knowledge of blues history is revealed by his use of older material and playing styles.
NPR Music described Walker as "Powerful, soul-stirring, fierce and gritty…a legendary boundary-pushing icon of modern blues." Walker's career has spanned nearly six decades – and 24 studio albums – since first picking up the guitar at his childhood home in San Francisco at the young age of eight.
If you define 'blues' by the rigid categories of structure rather than the flexible language of feeling allusion, Joe Louis Walker is a new and uncategorizable breed with music that is blues-like rather than blues, blending ideas and devices from a variety of sources – soul, rock, jazz, gospel – with a sophistication beyond the reach of his forerunners.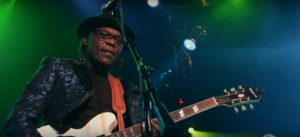 The 10 performance tracks contained include
I'm Not Messing Around
Young Girls Blues
Sugar Mama
Do You Love Me
In The Morning
Soldier For Jesus
You Don't Love Me Girl
Black & Blue
Too Drunk To Drive Drunk
Like It This Way
Included on the DVD version along with the complimentary CD as bonus materials is an exclusive interview with Joe Louis Walker which was filmed backstage at the Boulder Station concert venue plus a rare behind the scenes Slideshow.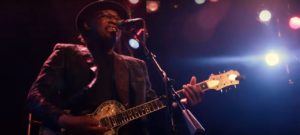 Blues students will find that Walker's work is complimentary and historically relevant to that of B.B. King, T-Bone Walker, John Lee Hooker, J.J. Malone, Buddy Miles, Otis Rush, Thelonius Monk, Willie Dixon, Steve Miller, Nick Lowe, John Mayall, Earl Hooker, Muddy Waters, Jimi Hendrix. Mike Bloomfield, Bosstalkers and James Cotton.
2019 / 85 minutes / color / a film by Brent Backhus
HOW TO ORDER:
Public Performance and Digital Site Licenses are available through Soundview Media Partners. To inquire or to place an order, write to info@soundviewmediapartners.com or simply choose from the options below:
For group screening prices, please inquire.
In-home/personal use copies are available on Amazon: https://amzn.to/2EqiSDw
WATCH THE TRAILER