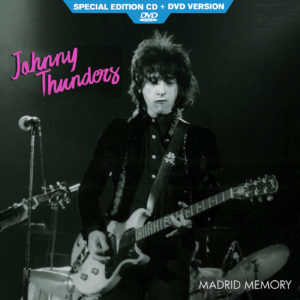 John Anthony Genzale (July 15, 1952 – April 23, 1991), better known by his stage name Johnny Thunders, was an American rock and roll/punk rock guitarist, singer and songwriter. He came to prominence in the early 1970s as a member of the New York Dolls. He later played with The Heartbreakers and as a solo artist.
Madrid Memory is a long lost live concert performance from The Heartbreakers explosive 1984 reunion world tour that included fellow Dolls Sylvain Sylvain & Jerry Nolan plus Billy Rath!
Rumors surround Thunders' death at the St. Peter House in New Orleans, Louisiana on April 23, 1991. It was stated that he died of drug-related causes, but it has long been speculated that his death was the result of foul play. According to his autobiography Lobotomy: Surviving The Ramones, Dee Dee Ramone took a call in New York City the next day from Stevie Klasson, Johnny's rhythm guitar player. Ramone said, "They told me that Johnny had gotten mixed up with some bastards… who ripped him off for his methadone supply. They had given him LSD and then murdered him. He had gotten a pretty large supply of methadone in England, so he could travel and stay away from those creeps – the drug dealers, Thunders imitators, and losers like that."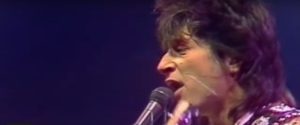 Filmed for TV broadcast at La Edad De Oro in Madrid, Spain, this concert captures powerful performances of songs from throughout Thunders' amazing career including "Personality Crisis," "Too Much Junkie Business," "Born Too Lose". The complete track listing of 17 songs performed:
Pipeline
Personality Crisis
Too Much Junkie Business
In Cold Blood
Just Another Girl
Alone In A Crowd
Sad Vacation
Don't Mess With Cupid
Green Onions
Copy Cat
14th Street Beat
I Love You
Born Too Loose
Eve Of Destruction
Diary Of A Lover
Hurt Me
You Can't Put Your Arms Around A Memory
This item is actually a DVD/CD Combo making it an even greater experience for the viewer/listener alike.
Originally recorded in 1984 / Produced in 2019 / 90 minutes / color / remastered to High Definition
HOW TO ORDER:
Public Performance and Digital Site Licenses are available through Soundview Media Partners. To inquire or to place an order, write to info@soundviewmediapartners.com or simply choose from the options below:
For group screening prices, please inquire.
In-home/personal use copies are available on Amazon: https://amzn.to/2WCW4XC
WATCH THE TRAILER