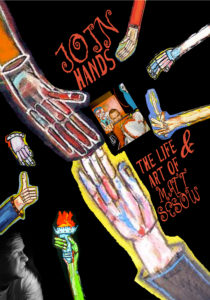 A close up 'inside' look at a world-class 'outsider' artist.
"Painter Matt Sesow's art is raw, exciting and for the most part emotionally charged. Selected by the UN for their postal stamp, self taught Matt works prolifically. He has been artist in residence in Costa Rica and worked for the US Peace Corps in the Solomon Islands. Based in America his work is exhibited internationally, most recently and upcoming in Washington, Barcelona and France." – Om Pom Happy
Matt Sesow was born in Omaha Nebraska on September 10, 1966 and is the second of three siblings. In 1974 at the age of 8, he was playing a game of 'spud' in an airfield near his home and was struck by a landing airplane. Matt's arm was severed by the propeller and reattached at the hospital. He lost his dominant left hand. And so his journey begins…
In 1994 he began painting inspired by his trauma and reflecting on the events of the times. Short films by Sesow were shown by the Washington Project for the Arts and were selected for the D.C. Psychtronic Film Society exhibition.
Matt paints and creates obsessively and has completed thousands of paintings. His work has been shown in numerous prestigious exhibitions and received many awards. He travels extensively across the U.S. and internationally for his shows and to paint.
JOIN HANDS is Matt Sesow's story and the story of his acclaimed art.
75 minutes on 1 disc
HOW TO ORDER:
Public Performance and Digital Site Licenses are available through Soundview Media Partners. To inquire or to place an order, write to info@soundviewmediapartners.com.
For group screening prices, please inquire.
In-home/personal use copies are available on Amazon: http://amzn.to/1JQgUZL
WATCH THE TRAILER