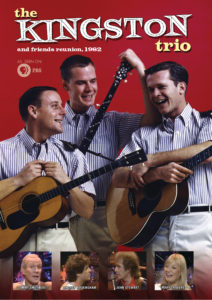 This rare 1982 performance, originally broadcast nationally on PBS, brought together for the first time since 1961 the original members of the Kingston Trio performing some of their most influential songs.
Together on stage for the first time in 21 years, the original members of the Kingston Trio (Nick Reynolds, Bob Shane and Dave Guard) performed a thrilling concert of their greatest hits. Joining the renowned folk group were Tommy Smothers, Mary Travers (of Peter, Paul and Mary), Lindsay Buckingham (of Fleetwood Mac) and new Trio members George Grove and Roger Gambill.
Since their debut in 1958 with the gold record song Tom Dooley, the Kingston Trio had a powerful influence on such artists as Joan Baez, Bob Dylan and dozens of folk groups of the late 1950s and 1960s.
This historic reunion concert, filled with the unique and vibrant sound that millions of Kingston Trio fans loved for over a generation, preserves the tremendous legacy of this group that became an American musical legend.
Filmed at Six Flags Magic Mountain in Valencia, CA., the performance was a hit-after-hit concert and included the following tracks:
Three Jolly Coachmen
Early Morning Rain
Scotch and Soda
Hard, Ain't It Hard
Zombie Jamboree
Tom Dooley
Tommy Smothers Medley
Where Have All the Flowers Gone
Leavin' On A Jet Plane
Reuben James
Chilly Winds
Greenback Dollar
You Can't Go Back to Kansas
Spinnin' of the World
Hard Travelin'
Sloop John B
A Worried Man
M.T.
71 minutes on 1 disc / color / 1982
Note about production: The film is standard def with less than stellar visuals. Sound is sweetened to re-capture the quality of the 1982 concert. DVD includes the option to select Dolby Digital Stereo or Uncompressed PCM Stereo audio.
HOW TO ORDER:
Public Performance and Digital Site Licenses are available through Soundview Media Partners. To inquire or to place an order, write to info@soundviewmediapartners.com or simply choose from the options below:
For group screening prices, please inquire.
In-home/personal use copies are available on Amazon: http://amzn.to/2COkSn3
WATCH THE TRAILER