The incredible story of a young man's quest to learn the ancient art of eagle mastery results in an immersion into a culture that is a long forgotten world.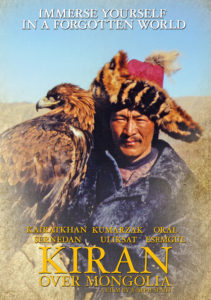 Kuma, a young Kazak man, retraces the steps of his grandfather who was formerly an eagle master, back to the remote mountainous region of his family's origin. There, in nomadic Mongolia, he fulfills his dream of trapping and training his own eagle.
Under the tutelage of a local eagle master named Khairatkhan, Kuma learns not only the ways of hunting with eagles, but also the ways of his own people. Set against the staggering and exotic beauty of Mongolia, KIRAN immerses the viewer in a world forgotten by time.
"Kiran Over Mongolia is a visually stunning documentary that tells an almost mythic tale. The film's visuals are unique. The vivid black- and- golden eagles and their capped and booted handlers glow in the brilliant light against a lunar background of bare mountains shaped like frozen waves, plains like a sea of rippling stone. To most urban humans, they inhabit a world as far from any modern time and space as another planet." – Stephen J. Bodio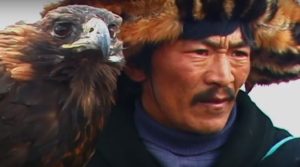 "Highly Recommended. This is an extraordinary film…examines a subset of traditional Kazakh culture. Great care is taken to depict the traditional Kazakh hunting garb, traditional home life, traditional music and song. It is filmed in one of the most beautiful and most forbidding locations on the planet." – EMRO
86 minutes on 1 disc / Kazakh-Russian w/English sub-titles / A film by Joseph Spaid.
HOW TO ORDER:
Public Performance and Digital Site Licenses are available through Soundview Media Partners. To inquire or to place an order, write to info@soundviewmediapartners.com or simply choose from the options below:
For group screening prices, please inquire.
In-home/personal use copies are available on Amazon: http://amzn.to/2hSbHWG
Watch the trailer