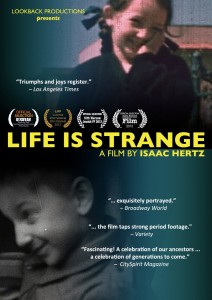 "So I sent down the bucket and I drank the water… and that was the only taste of my childhood that remained alive" – Shimon Peres.
There was a time when they were children too…
LIFE IS STRANGE evokes the vibrant life of Jewish families in pre-World War II Europe through childhood memories of survivors. Intimate conversations with people from all walks of life are presented against a tapestry of rare footage that takes us into the heart of pre-war Yiddish culture, and portrays a universal experience of carefree childhood.
LIFE IS STRANGE explores the connection between old age and childhood, what remains of childhood in our later years and how the memory of the past can be retained when the world that created it no longer exists.
"Triumphs and joys register" – Los Angeles Times
"3.5 stars. Highly recommended" – Video Librarian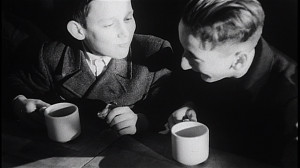 "A wonderful documentary…memories of the rich Jewish life experienced in the Shtetl." – Rabbi Marvin Hier, Simon Wiesenthal Center
LIFE IS STRANGE features 25 intimate conversations with
survivors of the holocaust. Some are people like those you might know within your own family. Some are extraordinarily famous. Included among them are
Shimon Peres, President of the State of Israel
Walter Kohn, Nobel Laureate in Chemistry
Robert Aumann, Nobel Laureate in Economics,
and children's book author Uri Orlev.
2012 / 53 minutes / Color and Black & White / 16×9 / Hebrew and English Language Versions / A film by Isaac Hertz

HOW TO ORDER:
Public Performance and Digital Site Licenses are available through Soundview Media Partners. To inquire or to place an order, write to info@soundviewmediapartners.com or select from the License Options below:
For group screening prices, please inquire.
In-home/personal use copies are available on Amazon: http://amzn.to/1nsXR7O
Also avail to stream and/or download on Amazon: http://amzn.to/1Cx1wPw
WATCH THE TRAILER