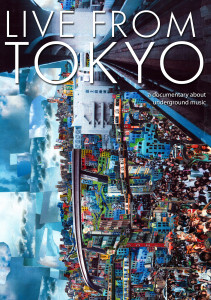 A documentary about underground music.
A vivid look at Tokyo's music culture as a reflection of Japanese society and its relation to international music. Live from Tokyo takes the viewer through the back streets in Shinjuku, the intersections in Shibuya, the alleys in Koenji and all over Tokyo.
Tokyo's reputation for cutting edge innovation, makes it the perfect sample for addressing a new outlook on music culture as it explores this eccentric music culture set. Bands include DMBQ, Suishou no Fune, Muneomi Senju, Shintaro Miyazaki and more.
Performances and interviews with Japan's underground music scene including members of the Boredoms.
The DVD includes a digital download code for a free soundtrack to the film.
10% of proceeds are being donated to the Red Cross for Earthquake relief.
"Kudos to Good Charamel for releasing this documentary stateside in hard-copy DVD format." – JROCK24/7
"You have an instant connection and you feel good exchanging information that has yet to permeate the further layers of the cultural experience elsewhere in the world." – Doobeedoobeedoo NY
88 minutes on 1 disc / Japanese and English w/English subtitles
HOW TO ORDER:
Public Performance and Digital Site Licenses are available through Soundview Media Partners. To inquire or to place an order, write to info@soundviewmediapartners.com or choose from the License Options listed below:
For group screening prices, please inquire.
In-home/personal use copies are available on Amazon: http://amzn.to/1TELIxr
Watch the trailer